White boards and glass boards are popular communication tools in active classrooms, but they can become difficult to read and use when covered in permanent marks and stains. Even regular dry-erase markers can leave stubborn stains if left on the board for too long (looking at you, red marker). Let's explore how to keep your porcelain steel dry erase white boards and glass boards looking like new with these easy cleaning tips.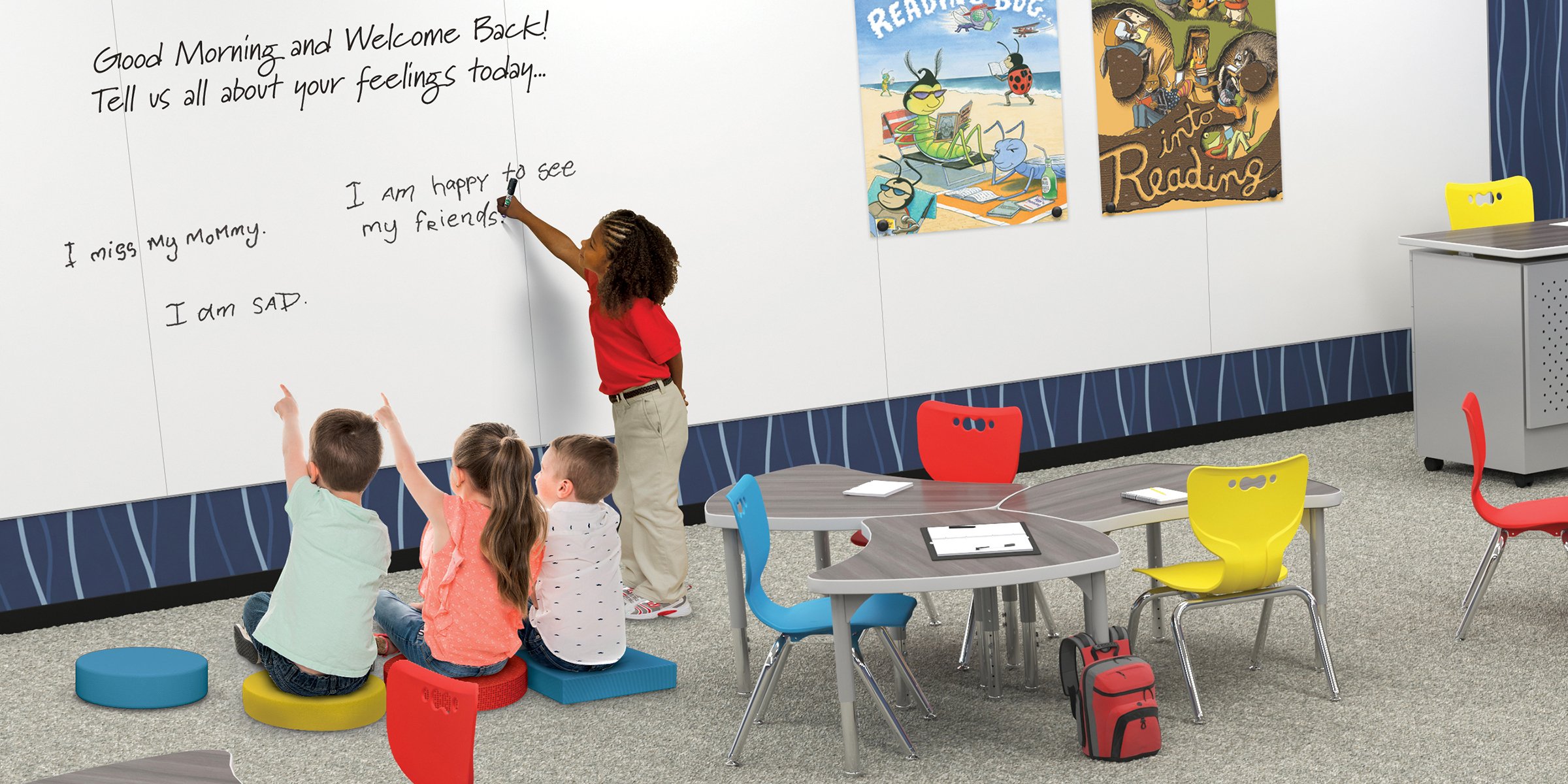 How to Clean Dry Erase White Boards
MooreCo offers superior porcelain steel dry erase surfaces in many of our products. The Hierarchy Shapes Desk + Porcelain Steel Top will inspire elementary students to get creative, take notes, and problem solve by writing directly on the desk without any fears of the color ghosting or streaking. Cleaning Hierarchy Porcelain Steel Dry Erase Boards and other white boards is easy if you follow these steps:
Many new whiteboards will come with a protective clear plastic sheet covering the markable surface. Make sure that you remove any existing protective cover before attempting to use your white board. You can lightly cut around the trim of the board with an Exacto knife or a utility knife and use your fingernails to pull up the clear plastic sheet.
Always clean white boards and white board easels when they are new because some residues may be left on the surface from the manufacturing process. Preferably, clean with a microfiber cleaning cloth with a glass cleaner or an alcohol-based cleaner.
Be sure to completely remove any remaining residue from the board by lightly rinsing it with clean water after cleaning.
The board may be given a thorough cleaning using a spray-on type of glass cleaner. Simply spray the surface and briskly rub with a clean microfiber cloth. Rinse with clear water.
Depending on the quality of your surface, you may also use soap and water, alcohol-based cleaners, glass cleaners, non-abrasive ceramic stovetop cleaners, or non-abrasive bathroom cleaners on your whiteboard.
Matte surface white boards may require "wet erase" to fully erase marks made on the surface—simply spray the surface and briskly rub with a clean microfiber cloth, then rinse with clear water.
Avoid using caustic or abrasive cleaners.
MooreCo porcelain steel white boards can be cleaned with any of the items mentioned on this website.
How to Remove Permanent Marker from Porcelain Steel White Boards
Another benefit of choosing porcelain steel for your white boards is that permanent marker comes off easily if you follow these quick steps:

Draw over the entire permanent mark with a high-quality dry erase marker.
Wait five seconds for the marker to dry completely; otherwise, the mark may smear.
Wipe both marks away with a lint-free or microfiber cloth.
If the mark has been dried on for several days, repeat the above steps several times while applying steady pressure with the microfiber cleaning cloth.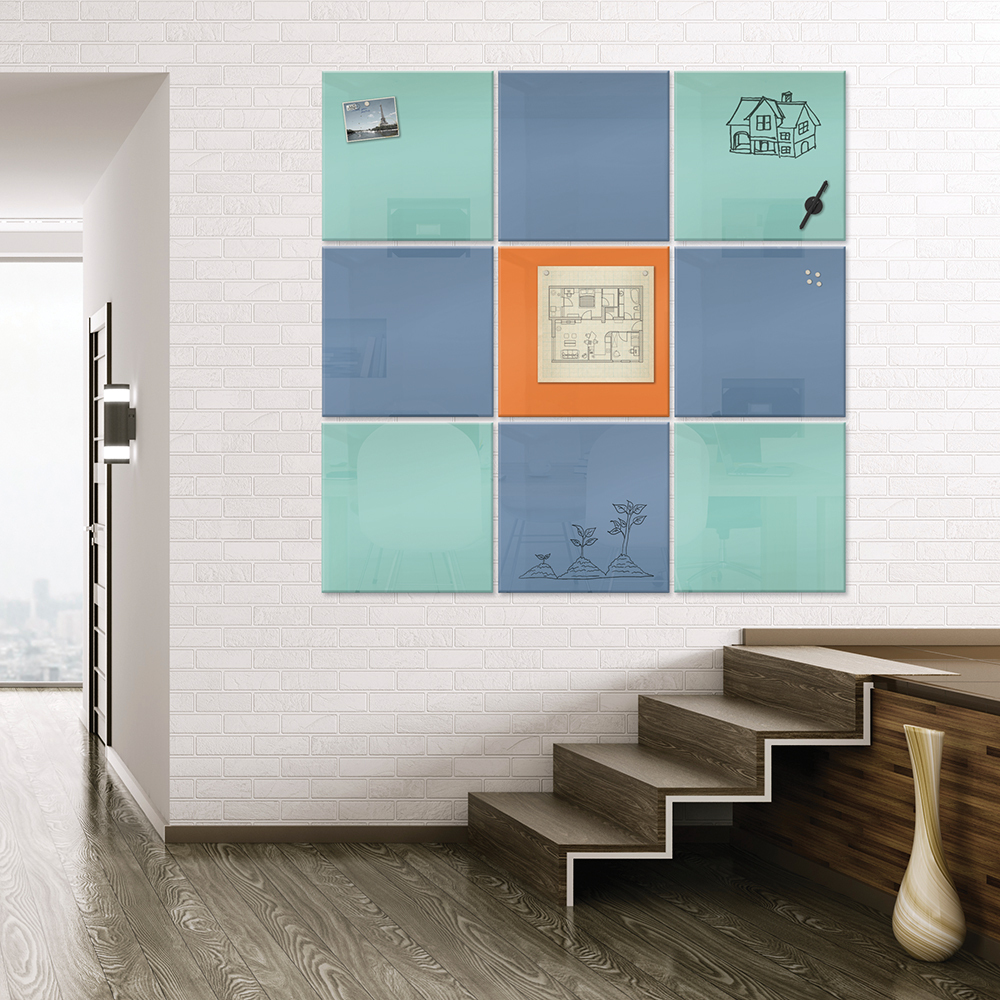 How to Clean Glass Boards
Glass boards are easier to clean than dry erase boards, and we suggest daily care and cleaning. The Hierarchy Grow & Roll Mobile Magnetic Glass Board is resistant to scratches and stains, but it's essential to use the right cleaning solution to prevent damage. Here's how to clean your glass board effectively:
Wipe glass board surface with a clean cloth moistened with a liquid glass cleaner.
Rinse with clear water.
Wipe glass boards dry with clean, dry cloth.
How to Remove Soil Marks from Glass Boards
Soil marks (such as paint, oil, crayon stains, tape marks, etc.) that cannot be removed with washing may be removed without damage to the board surface by using household cleaners or cleaning fluids such as denatured alcohol or glass cleaner. Under no circumstances should cleaners that contain paint remover or abrasives be used.
How to Clean Projection & Colored Glass Boards
If your glass board has a matte projection surface, we suggest using a spray-on type of glass cleaner when erasing your marks.
Spray the surface and briskly rub with a clean microfiber cloth.
Rinse with clear water.
Avoid using caustic or abrasive type cleaners.
If you ordered a black or colored glass whiteboard, you may need to use neon color markers in order for your writing to be clearly visible on the board surface. Depending on the color you order, we may include a set of neon markers for your convenience.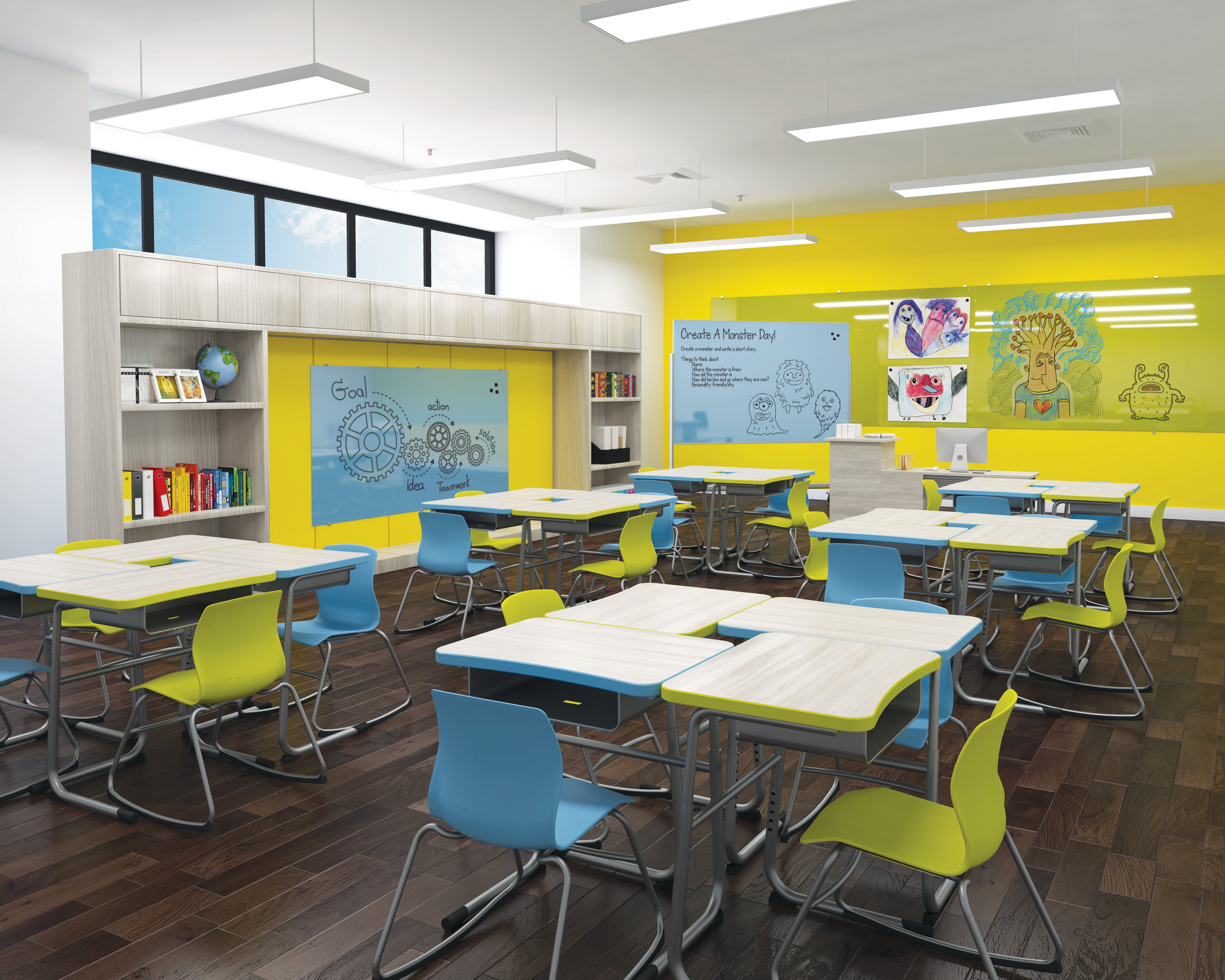 Other Tips for Cleaning White Boards and Glass Boards
Use a soft, non-abrasive cloth or sponge to avoid scratching the board's surface.
Don't use solvents like acetone, ammonia, or harsh detergents, as they can damage the board's surface.
Avoid using paper towels or tissues, as they can leave lint and other fibers on the board's surface.
Keeping your white boards and glass boards clean is essential to maintaining a sparkling and functional classroom. By following these simple steps, you can easily remove stains and keep your communication tools looking like new.
Let us know on the comments if you have any tips or tricks to make your glass board or white boards sparkling clean!
Topics: visual communications, whiteboard