Akt by MooreCo is a family of tables, chairs and soft seating designed for Gen Z. We designed Akt with intention of creating pieces that are active, kinetic, and tectonic, key ingredients that Gen Z needs in order to thrive. Akt was designed to morph, reinvent, and transform itself allowing users to feel they are in control while they move in, through and with the space they are in. Conceived under our Thrive philosophy, which focuses on the six key facets of human development from adolescence and into the workforce, the Akt collection puts the spotlight on soft seating and surfaces that are active, kinetic, and tectonic.
Akt: Active. Kinetic. Tectonic
Active
Active is defined as moving or tending to move about vigorously or frequently. We chose this adjective to define a line meant for Gen Z because they are a resilient cohort that has an entrepreneurial mindset and determination and will not allow themselves to simply sit on the sidelines. A purpose driven generation who will rise to their challenges and flourish when there is motion and interaction, Gen Z-ers thrive in flexible environments that move and adapt as fast as they do.
The Akt 5-Star Chairs and Stools come equipped with casters (soft or hard) that make it easy to keep the classroom active. This sleek and sturdy seating balances its stability with a swivel motion that allows Gen Z to expend energy while they work, and easily cross the room to communicate with their peers. Akt Tables have this same functionality, with included casters and creative table top shapes that support a dynamic working environment.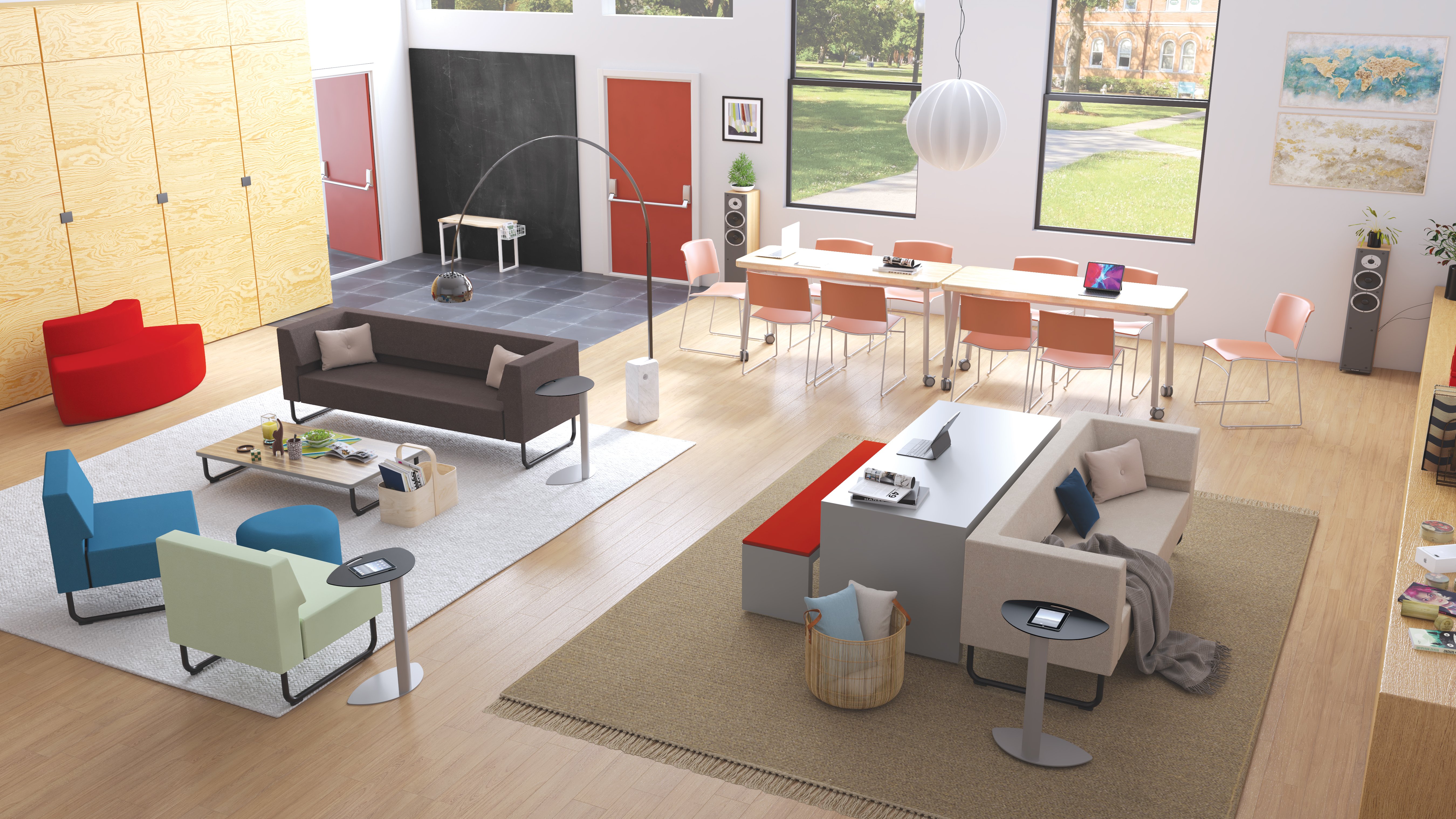 Kinetic
Kinetic is defined as relating to the motion of material bodies and the forces and energy, a perfect adjective to describe how Gen Z values community. Having a voice to speak up and feel validated is increasingly important to this new generation, and they need to feel seen, heard and recognized for who they are in the classroom or workspace. Their communities are fluid, always shifting, and so should the energy where they learn and work.
Akt lounge seating and tables can be configured to form community-driven spaces, where Gen Z-ers can meet with one another and birth new ideas. Akt Loveseats can create inviting, shared spaces while Akt High Back Seats provide a level of discretion for conversations that are personal and intimate. Use Akt Lounge Chairs and Corners Chairs to define a communal space and throw in a cozy Akt Lounge Ottoman to keep the atmosphere relaxed.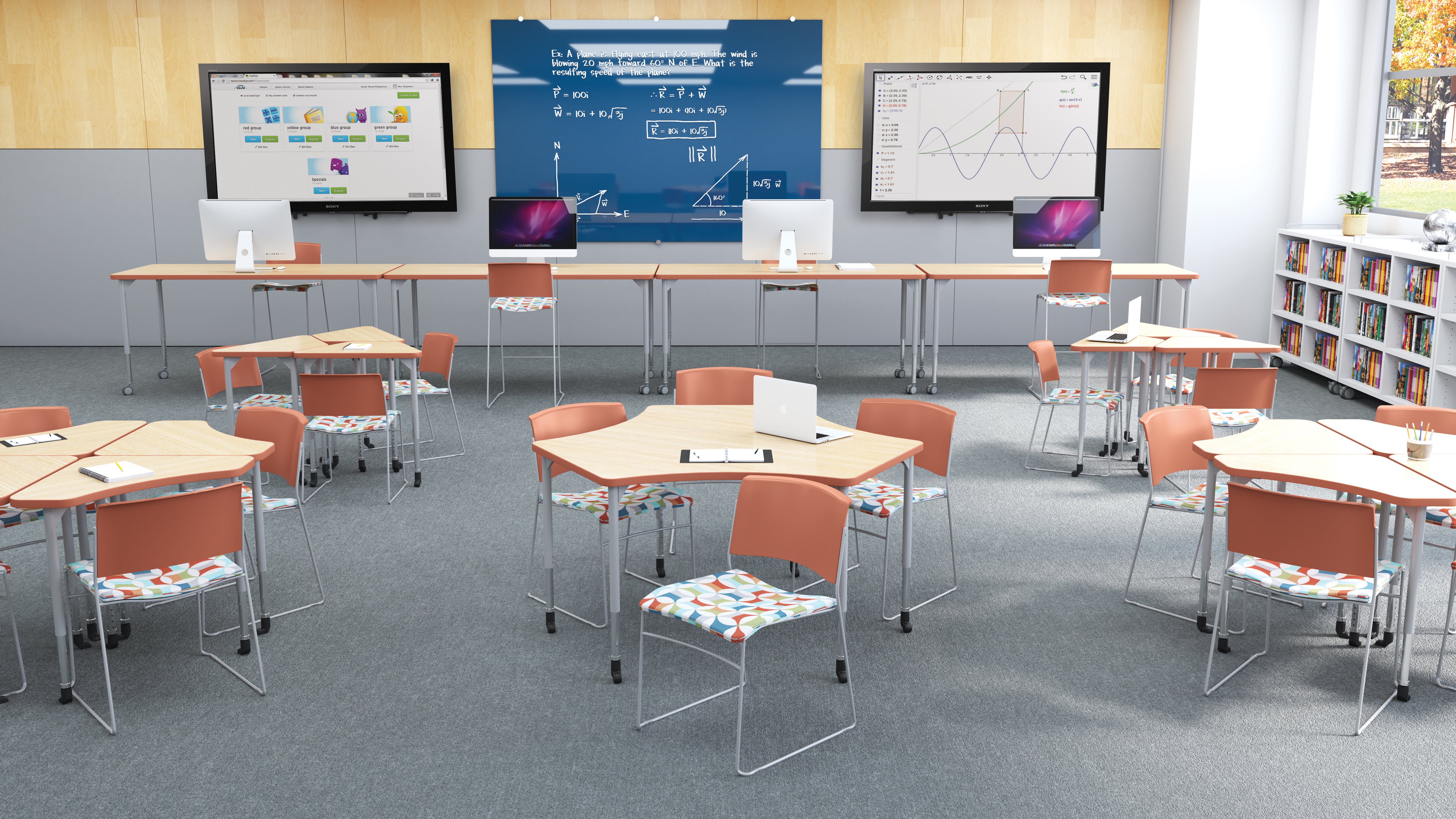 Tectonic
Tectonic is defined as having a strong and widespread impact, an adjective that characterizes Gen Z as a generation who believes in social justice and making a difference. Gen Z boldly wades into new territory, unafraid of embracing and creating change within themselves and the world around them, as they find new ways to stay connected.
Create environments that embrace change with Akt Stacking Chairs, equipped with a high density stacking wire base that can be easily stored. Switch up the classroom or workspace in a moment's notice by stacking these chairs up to 20 high on the floor and 40 high on the accompanying cart for quick transport and reliable storage. Akt Stacking Stools pair great with high-top Akt Tables, supporting Gen Z-ers with ample space for laptops and other tools needed to get their work done.
Topics: Collaboration, Design, Active Classroom, MooreCo Workplace, Thrive, Akt