MooreCo's QuickShip program is in full force and there is still time to outfit your classroom with school desks, school chairs, teacher desks, and more for fall! MooreCo is proud to offer the industry's most extensive product offerings with the fastest lead times. Take a look!
Our competitors can't offer you the variety or quantity that we guarantee. If they can't stick to lead times and upcharge for expedited orders, you can't get the supplies that you need. We designed a QuickShip program we can stand behind so you get what you need to start the year off right!
5 Ways MooreCo's QuickShip Program Is Different from the Others
1: We Specialize in Conscious Design of School Furniture for Modern Learning
Our QuickShip program considers the 6 key aspects of human development to create consciously designed learning environments in just 10 days. The Thrive philosophy embraces the importance of flexibility and collaboration in the environment.
Some kids learn best while seated while others work best standing up. Having an ample offering of pneumatic, standing, and youth height desks, as well as multiple styles of chairs and stools that can rock and swivel, will truly bring flexibility into the classroom.
Our QuickShip list has been carefully curated to offer a variety of products that meet the developmental needs of students no matter their style of learning or their age.
Physical + Psychological needs
Adjust: Learning environments must constantly change to fit the needs of students. We offer several desks, such as the best-selling Hierarchy Fender Desk, the budget-friendly Essentials Economy Rectangle Desk, and the Up-Rite Student Desk, that adjust in height pneumatically or by assembly, allowing students to easily transition from sitting to standing.
Move: Our pulse, breathing, and circulation change when our bodies move. Free movement is essential for both teachers and students and is directly linked to learning. Our school chairs like the ­­­Hierarchy Rocker Chair and stools like the Hierarchy Grow Stool rock, wobble, and swivel to give students, and sometimes teachers, the motion they need to activate their brains.

Intellectual + Social-Emotional needs
Collaborate: Working together is a primary tenet of active learning and when students work together, the new skills they acquire become a point of pride! The Hierarchy Shapes Desk + Porcelain Steel Top is uniquely shaped to form collaborative groups and the dry-erase surface makes expressing ideas and feelings fun and easy!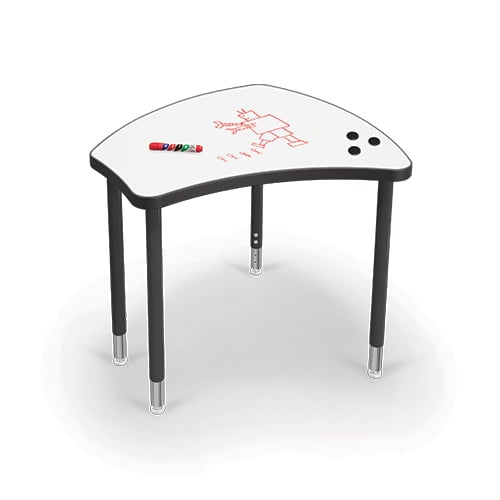 Moral + Spiritual needs
Engage: Students develop confidence, resilience, and a sense of wellbeing when they engage in hands-on experiences in a multi-functional makerspace. Large work areas like the Compass Makerspace Table and accessible storage like the Compass Makerspace Cabinet allow students to engage in the arts and sciences and become balanced, confident, and inspired people.
Participate: When students share their ideas, they enhance their learning experience. The Hierarchy Boomerang Desks is perfect for forming small or large groups quickly and easily. Writing surfaces are an incredible resource for students to explain, ask, recall information, and engage with one other. The Platinum Mobile Reversible Board gives students double the writing space and can also be used as a room divider.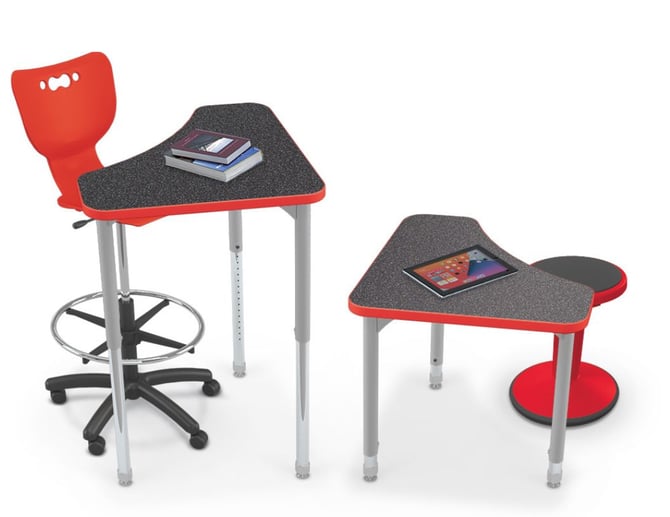 2: We Design the Space You Really Want with School Desks, School Chairs, and More!
Our QuickShip program covers more than just standard desks and chairs in basic colors. You can outfit your entire space with glass boards, cabinets, teacher workstations, tackboards, easels, technology accessories, and more, all coordinated to blend with your overall design.
At MooreCo, we don't believe you should compromise your design just because you need your order to arrive soon. We can quick ship a full spectrum of colors. Our full suite of 10 chair colors and 16 edge band colors are standard with any order. It has been proven that the colors in a learning environment have a positive emotional impact on students. Other companies limit their QuickShip program to only 2 or 3 colors and offer limited quantities.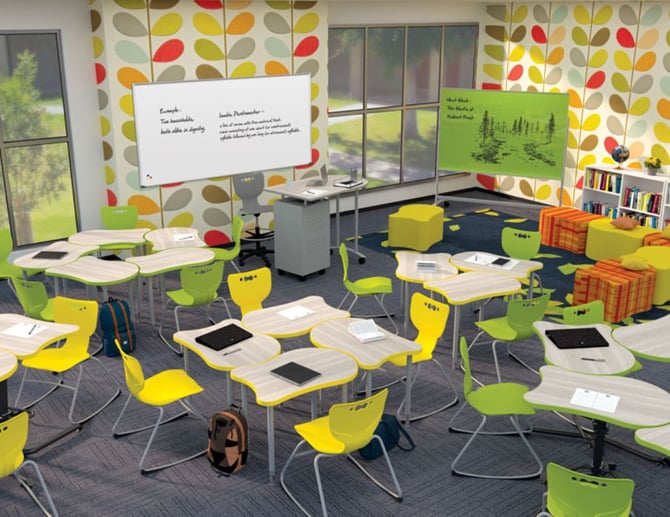 3: We Guaranteed Our QuickShip Lead Times
Products in our QuickShip program are available to ship within 2 to 10 days so you get your product when you need it.
Unlike our competitors, a larger quantity does not mean a longer lead time! When we say 2 days, we mean your items are guaranteed to leave our facilities in only 2 days!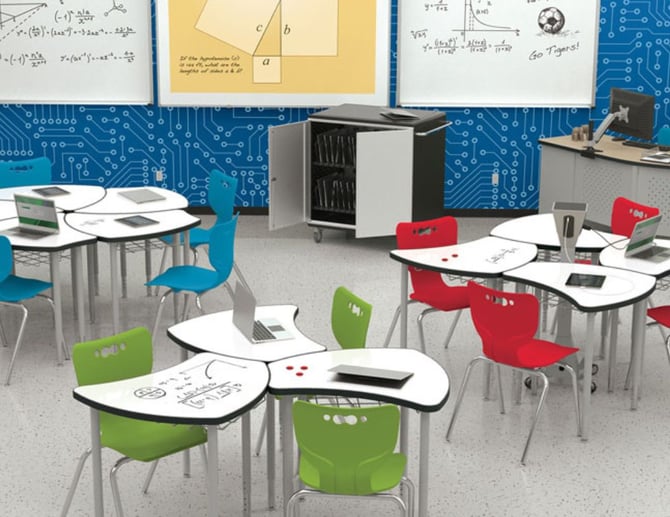 4: We Do Not Upcharge to Ship School Furniture On Time
We will not charge you for faster shipping. We base our lead time on what we can get to you, not what we can get out of you!
Some furniture companies will charge you more to get the products your students and teachers need quickly, or they limit you to the quantity you can order. At MooreCo, we never upcharge for a QuickShip order and you can order enough product to outfit your entire space.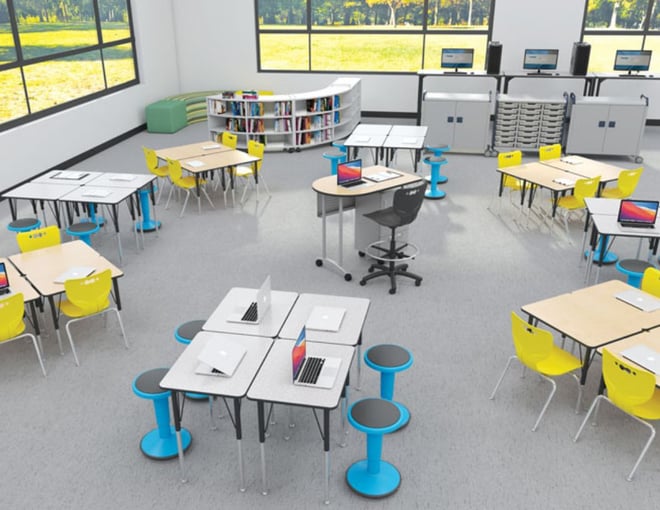 5: We Offer Coordinating Teacher Desks and Other Instructional Materials
Teachers are the heart and soul of a learning environment. Why limit their choices to just one desk option and one storage unit? MooreCo offers a variety of teacher desks like the Mobile Teacher Workstation II. Paired with the Hierarchy Grow & Roll Mobile Magnetic Glass Board, your teachers can move freely, have materials easily accessible, and express themselves.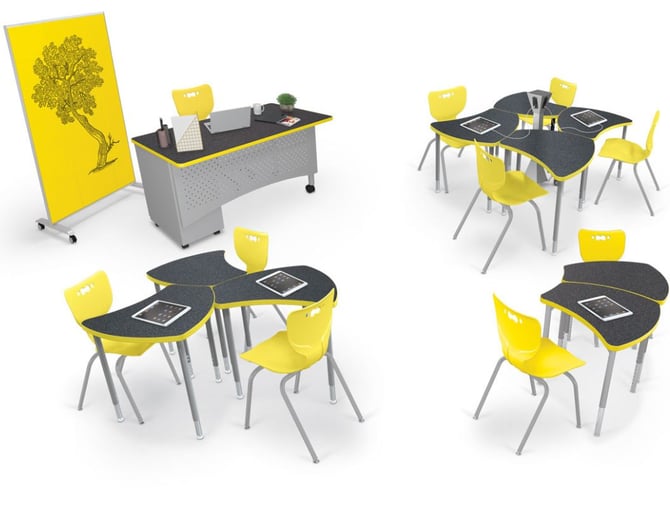 How soon can you get your school furniture?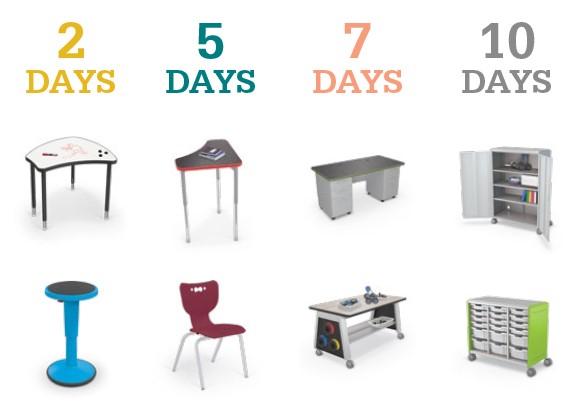 School furniture that ships in only 2 Days!
The Hierarchy Shapes Desk + Porcelain Steel Top is the ultimate brainstorming student desk. Students can doodle and jot down ideas and notes. The desk is height adjustable to accommodate sitting or standing. Pair this with a brightly colored Hierarchy Grow Stool and coordinating Hierarchy Grow & Roll Mobile Magnetic Glass Board and you have a creative space to unlock a world of imagination!
School furniture that ships in only 5 Days!
The Hierarchy Boomerang Desk is an innovative shape that creates countless configurations and is ideal for collaborative working. Pair this with the Hierarchy 4-Leg Chair and students can quickly and easily break into groups to connect in dynamic teambuilding activities.
School furniture that ships in only 7 Days!
Pair an Avid Modular Desk System with a coordinating collection of Compass Makerspace Tables and you've configured a hub for lively, engaged hands-on learning!
School furniture that ships in only 10 Days!
Finish your classroom with a selection of Compass Makerspace Cabinets and empower students to think, create, and do! Our extensive line of modular cabinets leads to fun and discovery and keeps materials accessible and organized.
MooreCo wants to get you everything you need to help teachers and students thrive this fall! Download the QuickShip guide or visit the QuickShip page.
Topics: Back-to-school, quick ship, Teacher's Favorites, Thrive, Learning Styles