During our Thrive Webinar, we had the chance to speak with Dr. Lisa Harris of Healthworks Ergonomics, who taught us the importance of sensory and physical experiences that Gen Z has in the classroom and the workspace. "People are more often now considering sensory needs to be just as important as physical needs," Dr. Harris said. "There is a lot that goes into creating an environment that brings out a physical response in your body." The Akt family of furniture is specifically designed in response to physical and sensory needs that Gen Z is experiencing. Akt Tables reduce contact stress, Akt Chairs promote good posture, and Akt Lounge seating guarantees a cleaner environment, all with the goal of creating sensory-friendly environments that also support physical wellness for Gen Z as they further their education and enter the workforce.
How to Create Sensory Friendly Environments for Gen Z
Addressing Physical Needs
Physical health is important to consider on behalf of Gen Z students and those in the workforce, who may spend hours sitting in a chair at a desk. Harris emphasized the importance of incorporating design that supports good posture, reduces contact stress, and structures technology use throughout the day. Akt Tables features ample surface space to reduce the risk of contact stress on wrists and elbows. Between 29", 36", or 42"H models, users can stand, sit, or perch at Akt Tables for the option to stay active and keep laptops at a comfortable height, reducing the need to crane your neck. Complimenting these surfaces are Akt Chairs and Stools, which have a flexible polypropylene shell that allows subtle movement and models good posture.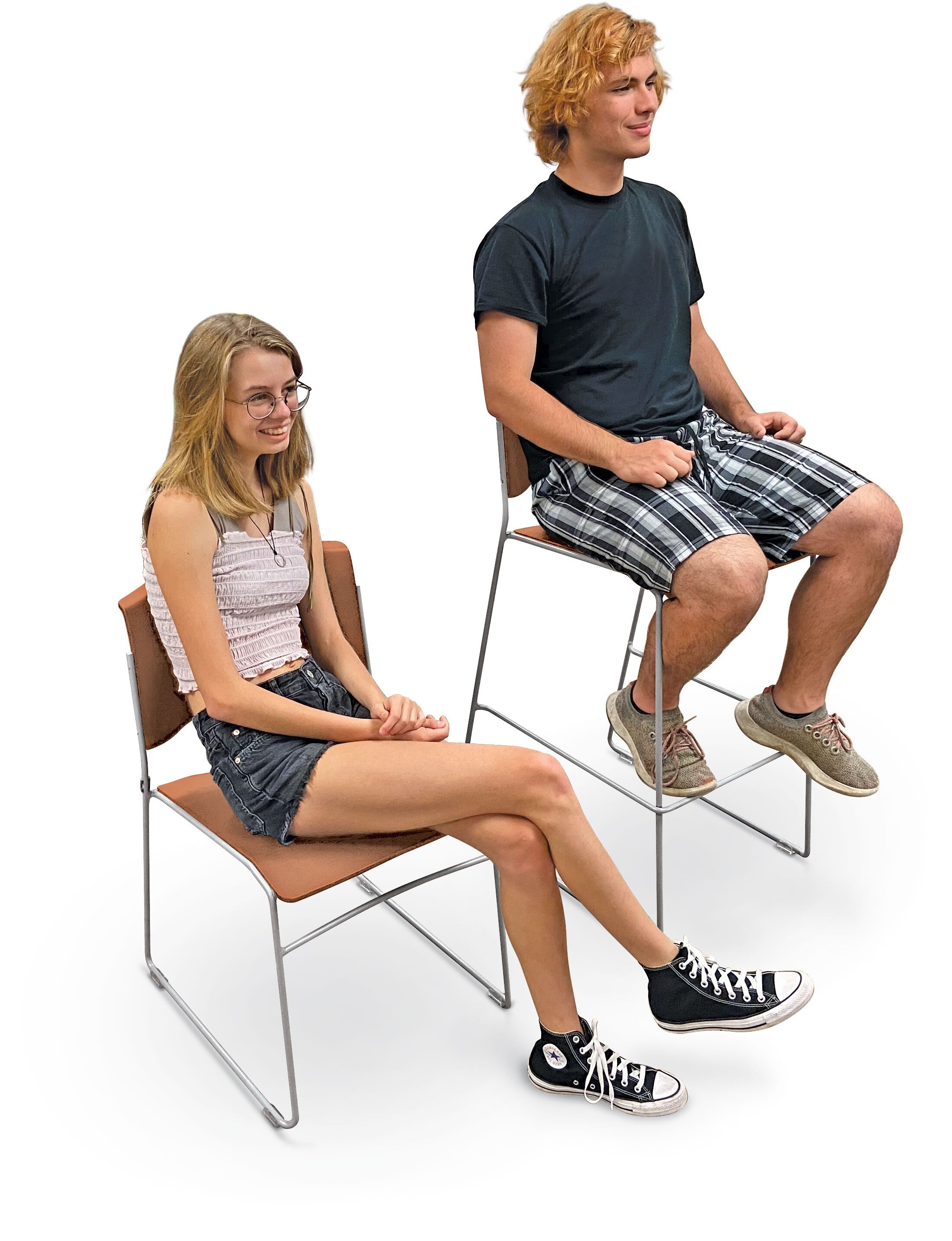 It is essential to stress good posture during fundamental growth years, the time Gen Z will spend as students. However, it is also important for Gen Z to maintain good posture into adulthood. "When we consider what contributes to this wear and tear on the body, one thing we look at is awkward posture," Dr. Harris said. "And by that we mean the overall position of all the joints in the body. So not just how much do you stand up straight, we're also looking at the position of your neck, the position of your wrist as you're typing, what's happening to your spine as you're sitting and maybe looking at multiple screens. We also look at how long you have to maintain a particular posture."
Akt Stacking Chairs are designed to help the body withstand long periods of sitting down, featuring a flex back and a high density stacking wire base that balances its pliability with stability. Akt 4-Leg Stools force the body to assume good posture with a supportive shell backing, secretly working back muscles for stronger posture over time. Akt 5-Star Chairs and Stools come with or without optional arms to minimize contact stress on the elbows, which allows the body to take the most natural and comfortable position available, resulting in good posture.
Meeting Sensory Needs
Sensory needs are just as vital as physical needs, and Gen Z is the most outspoken generation about this emphasis on mental wellness. Acknowledging and ultimately meeting those needs is essential for concentration in the classroom and the workplace. Dr. Harris let us know that "when someone is in their preferred sensory environment, their brain is working better, more open to information, more open to learning." Designed with the health and comfort of users in mind, Akt Lounge Seating and Tables feature back spacers and generous clearance underneath that minimizes the spaces where debris can collect, granting peace of mind to those seated.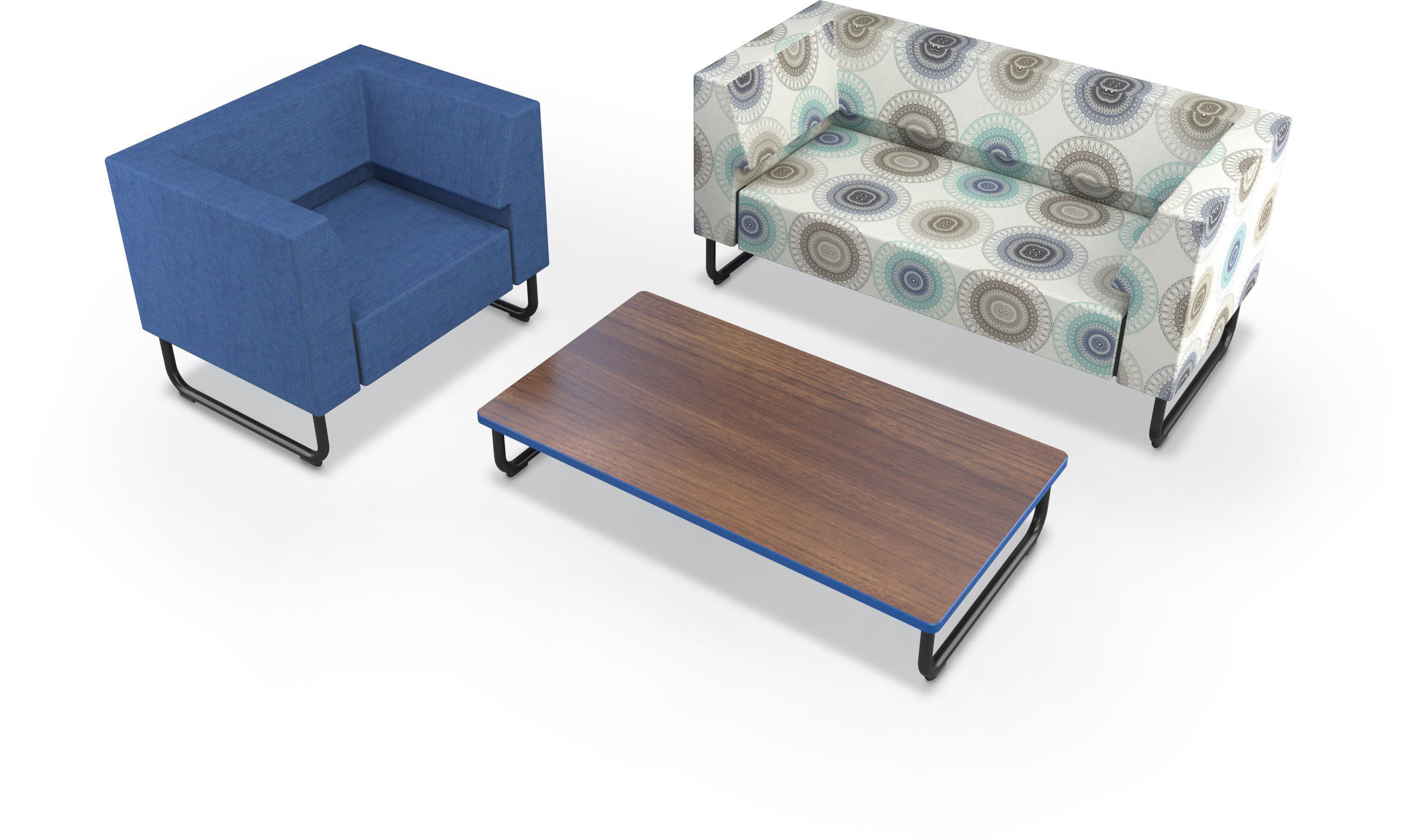 "The differences between sitting and standing for different people definitely impacts concentration," Dr. Harris said. "Some people stand up so they can concentrate better. Some people stand up and feel that they can't concentrate as well. Sensory preferences are really individualized." That's why Akt Tables have a fixed height tabletop available in 29", 36", or 42" models, to provide opportunities to sit, stand, or perch while working, depending on how the user concentrates best. Akt Tables promote focus, giving Gen Zers plenty of surface space to spread out and keep all the tools they need nearby. Groups working together can gather at Akt Tables to collaborate closely, keeping everyone fully concentrated on the task at hand.
Dr. Harris informed us that physical movement can actually meet sensory needs for some Gen Z learners and workers. Akt Stools and Chairs are available in a high density stacking wire base that reinforces stability when users are seated and can be stacked up to 20 high on the floor, or 10 high with a 4-leg base, creating a need for physical movement as the classroom shifts. Akt 5-Star Chairs come equipped with hard or soft caster wheels, which allow micromovements in place or around the room, giving those who need to shake off extra energy the freedom to do so.
Topics: Collaboration, Active Learning, Human Development, Active Classroom, Clean Living, Technology, Well-being, sensory needs