Educational Experts Predict the New Learning Landscape
MooreCo has been dedicated to the study of optimal learning environments and well-being for decades. The Thrive Philosophy was created to amplify the developmental needs of all students to create spaces where everyone is at their best. Although the pandemic has brought on a myriad of issues for students and families, there may be an opportunity for a new way of learning where wellness is prioritized and learning gains are maximized as a result.
With the passing of the American Rescue Plan and the Cares Act, an unprecedented amount of funding is being allocated to schools across the U.S. to combat learning loss caused by the pandemic. At our recent Get Back to Thriving Webinar, we heard from experts in the field of education and design about how to best use stimulus funds to get students back on track. They spoke about the importance of leading edge educational technology, services that will serve students in need of support, and how to create environments that facilitate accelerated learning, equity and inclusion, and social-emotional literacy. Here are a few predictions for what the post-pandemic learning landscape could be like with the help of ESSER funding.
Student and teacher safety measures against COVID-19 will continue.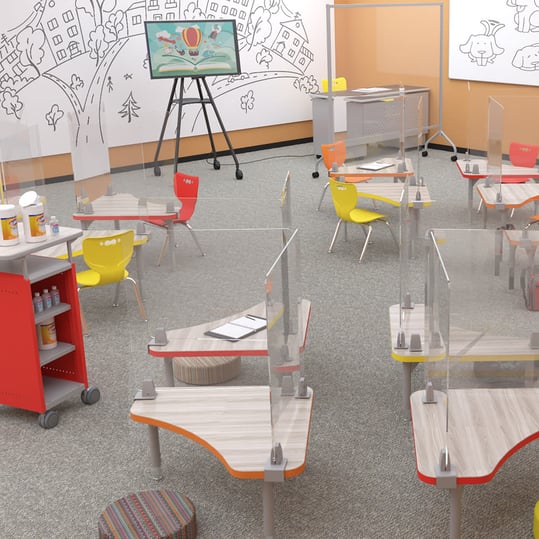 Sylvia Kowalk is the Director of Interior Design at Legat Architects. She's also been working on a COVID response plan for Chicago public schools. Sylvia said that designing spaces for flexibility is crucial, and that although students crave to be with others in a community, they may need time to be alone and feel safe. For the purposes of both reflection and safety, dividers and privacy areas will be necessary in schools to provide areas that create distance. The DOC Dividers and Essentials Mobile Clear Dividers can be used as a partition between students to help prevent the spread of the virus. Other COVID safety solutions include air quality monitors like the i3CAIR, that monitor the CO2, temperature, and humidity of each room to help keep everyone well and breathing deeply.
Schools will provide calming spaces for students to recharge.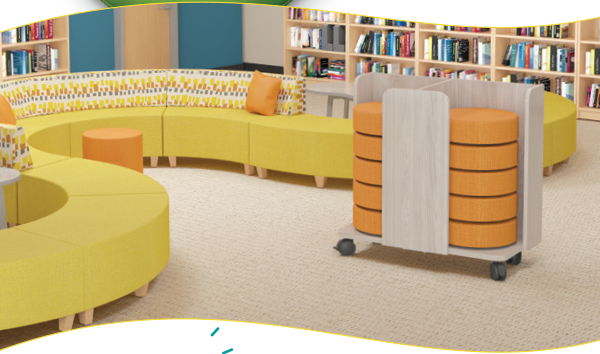 Robin Randall is the Director of PreK-12 Education at Legat. She said that because of all the trauma students, teachers, and parents have endured over the course of the pandemic, resting and quiet places may be needed. This means areas where students or workers can meditate, breathe, or just calm down. Furnishing and creating a quiet space within a classroom or school library is easy. Providing soft seating like bean bag chairs, curved couches, or even soft seated floor cushions can give students the space to sit, reflect, and breathe. Pieces that help students self-soothe by creating rhythmic micromovements are also valuable. The Soft Sway chair and Rocking Stool are great options for students who may be spiraling or anxious due to sensory overload and in need of energy release.
Student and teacher mental health will be prioritized.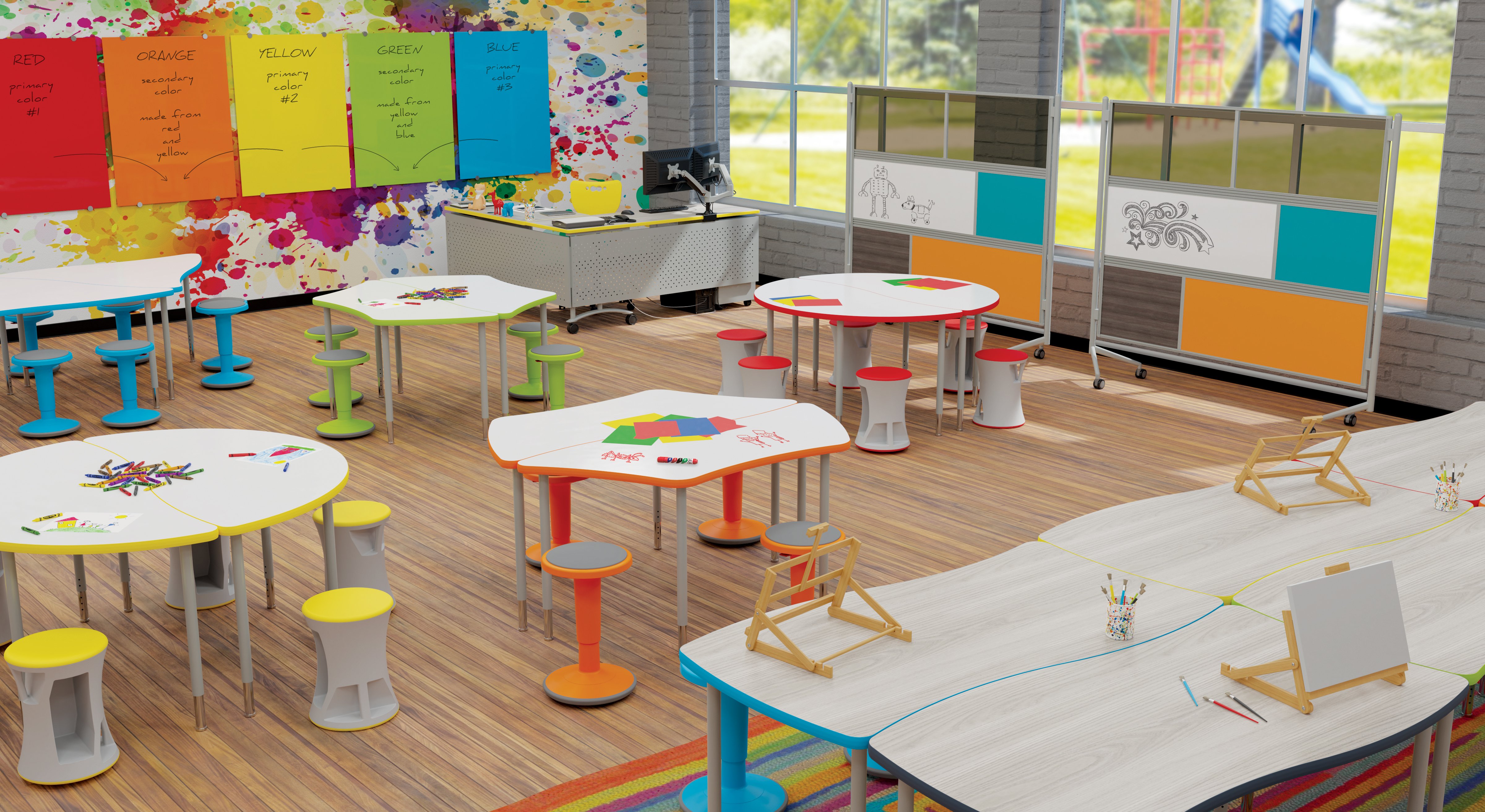 Dr. Lucio Calzada, Jr. is a former assistant superintendent and the Chair of the Board of Directors of Communities in Schools of Central Texas. He knows first-hand the services within schools that help boost and support students' mental health. He said that although social-emotional learning is nothing new, the pandemic will highlight the importance of emotional well-being for all students, particularly those who may have struggled before 2020. He pointed to the idea of hope as a strong indicator of student engagement, and said that creating hope and support for students is the key to helping them succeed and consistently attend school. When asked about environments, Dr. Calzada said that students will need the comforts of home brought to the classroom following the pandemic. If they've been able to have the flexibility of doing schoolwork from their couch or kitchen table, they'll need environments that are flexible and meet their needs in school.
Soft love seats, bean bags, and ergonomic tablet chairs will help students feel that home-away-from-home feeling. Add creative desks that allow students to write on their surfaces and you have engaged students. No matter how great the furniture is at home, it's unlikely young students are able to write on their kitchen tables! It's about designing spaces that students want to go to so they can engage with others and learn more about themselves and the world around them.
Every student's needs will be considered more holistically and fully.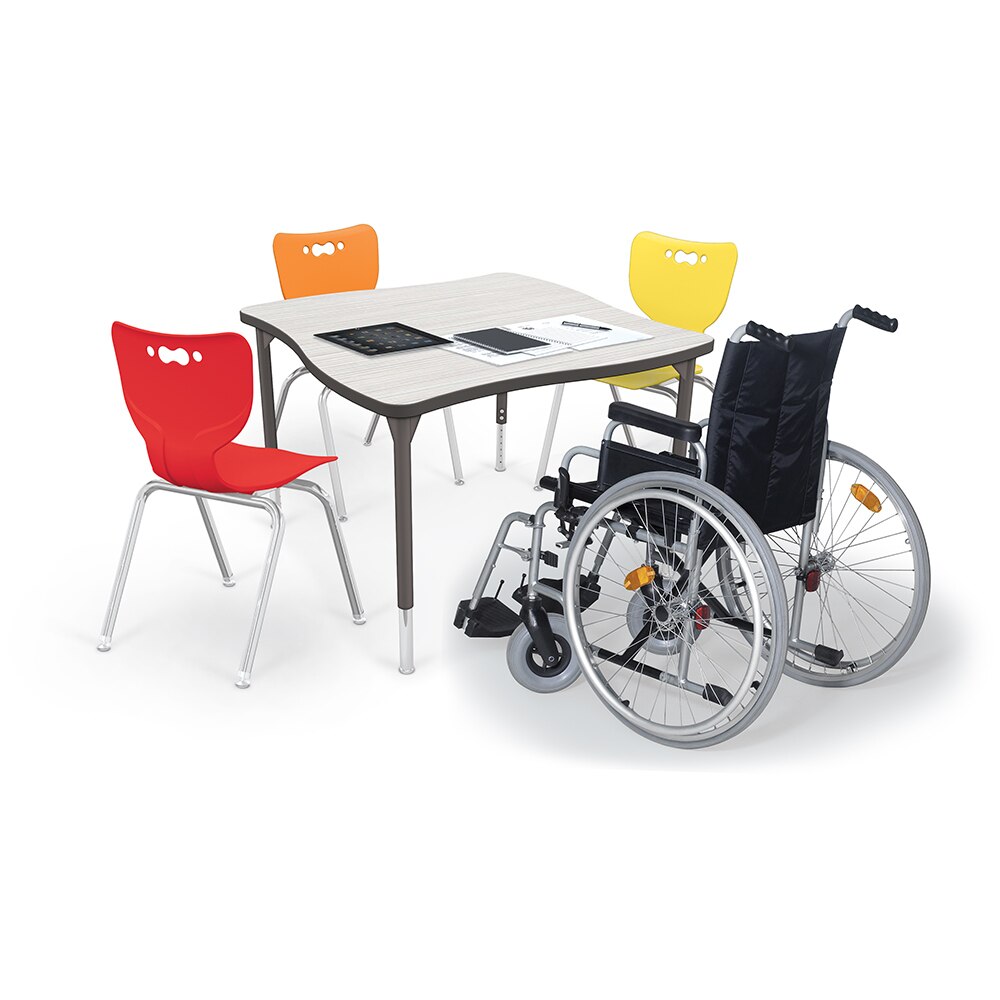 Dr. Mark Anthony Gooden, Ph.D is Professor of Education Leadership at Columbia University and a co-author of the book The Five Practices for Equity-Focused School Leadership. He has studied systemic imbalances in educational equity and discussed them at the Back to Thriving webinar. He said it will be more important than ever following the pandemic to address disparities in education and the learning gap, as well as to support students of all backgrounds.
Jennifer Saenz is Senior Director of Strategic Initiatives & Continuous Improvement at E3 Alliance. She broke down the statistics and data for student success and echoed Dr. Gooden's statements on learning and discipline gaps that may be keeping students of color and other varying backgrounds behind. She said an emphasis must be placed on teacher training going forward to create even more supportive environments for students of all abilities and backgrounds.
Creating environments that are inclusive for all students also means prioritizing physical accessibility, autonomy, and functionality. MooreCo's designs were created with student needs in mind, from ADA approved desks to furniture that supports students with sensory sensitivity. It may seem like a tall order to create inclusion and self-confidence with furniture, but as Dr. Calzada pointed out, environments where students feel welcome and wanted can create all the difference in their engagement and enthusiasm to learn.

Communities will continue to play a large role in the success of students.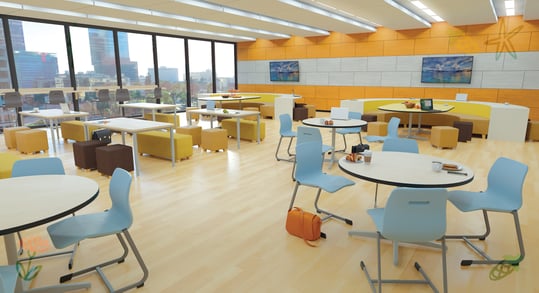 Each speaker talked about the importance that a community plays in student and teacher success. And as Sylvia Kowalk pointed out, a school is often a hub for communities for meetings, gatherings, and civic engagement. A school's design must reflect the values and spirit of its community. As designers, Robin and Sylvia integrate historical context, student activities, and teacher tasks as part of their process. MooreCo designs furniture with the same conscious intention. Ergonomic teacher desks, chairs that can be easily stacked to go from PTA meeting to yoga session and back again, and Sharewalls that encourage students to express themselves are all examples of the way furniture can support the activities and goals of a community. Our speakers said this sense of togetherness will be even more important following the pandemic.
Flexible and restorative spaces will be crucial for thriving and optimal learning.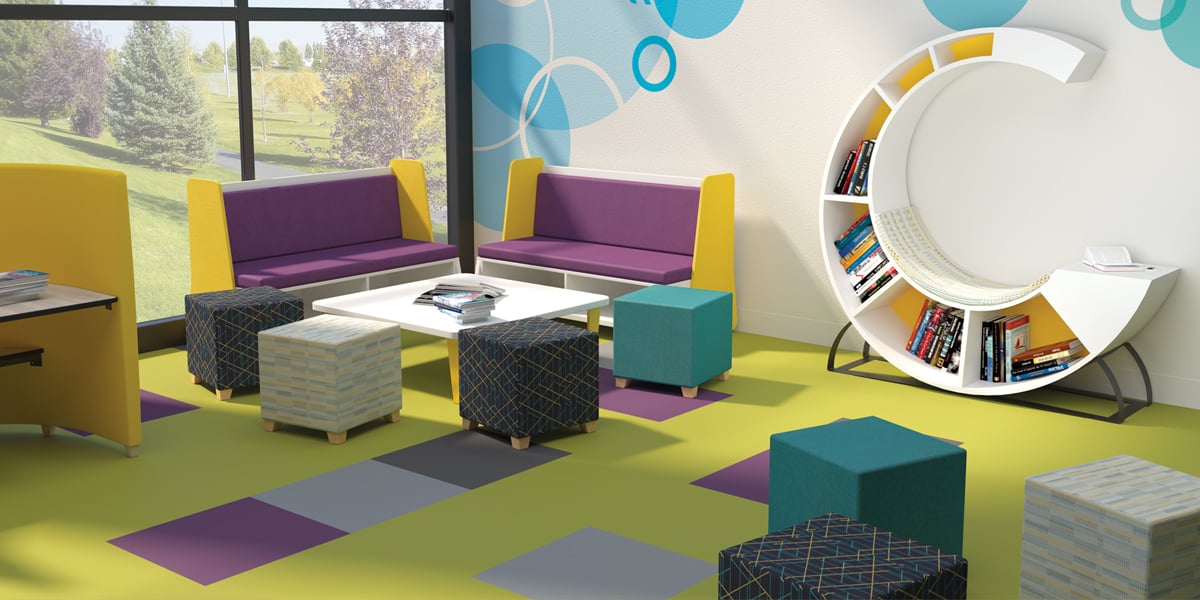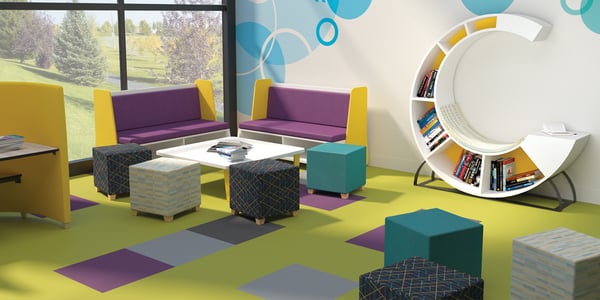 As Sylvia explained, flexible environments are crucial to any space. This means balancing restorative pieces with functional pieces that facilitate focus. A combination of private areas like the Reading Nook, Privacy Pod, or Study Carrels can be balanced with collaborative learning hubs that promote accelerated learning. Configurable furniture like Tablet Chairs, Shapes Desks, and Creator Tables bring students together for collaboration. Rest and reflection can be created with soft seating and spaces to retreat. In other words, creating the ideal classroom is all about balance. But this will be more important following the pandemic when students have been learning virtually or on hybrid schedules. The uncertainty caused by the pandemic, the varied routine, and the losses suffered by many families have led to instability. Students need spaces where they can feel supported, free, and able to focus on learning. This means comfortable furniture and engaging learning tools.
We're Here to Help

As MooreCo CEO Greg Moore pointed out during the webinar, the opportunity created by ESSER funding may lead to a renaissance in learning. Schools will be able to spend funds on teacher training, technology, improved facilities, and great furniture. This may be a moment when schools that have been without new or top-of-the-line equipment are able to obtain it, improving their ability to serve students and level the playing field to create learning equity.
We're hopeful we'll play a role in your school's renaissance. In the new learning landscape, we seek to serve as a map for how to optimize learning and maintain student well-being. If you're interested in learning more about the how to get the most out of ESSER funds for your school, download our guide here. Call us today if you have any questions about designing environments for optimal human development. It's our passion and our privilege to help you thrive.
Topics: Active Learning, Active Classroom, Designer's Corner, Covid-19, hybrid classroom, Diversity, Equity, and Inclusion, Compass, Teacher's Favorites