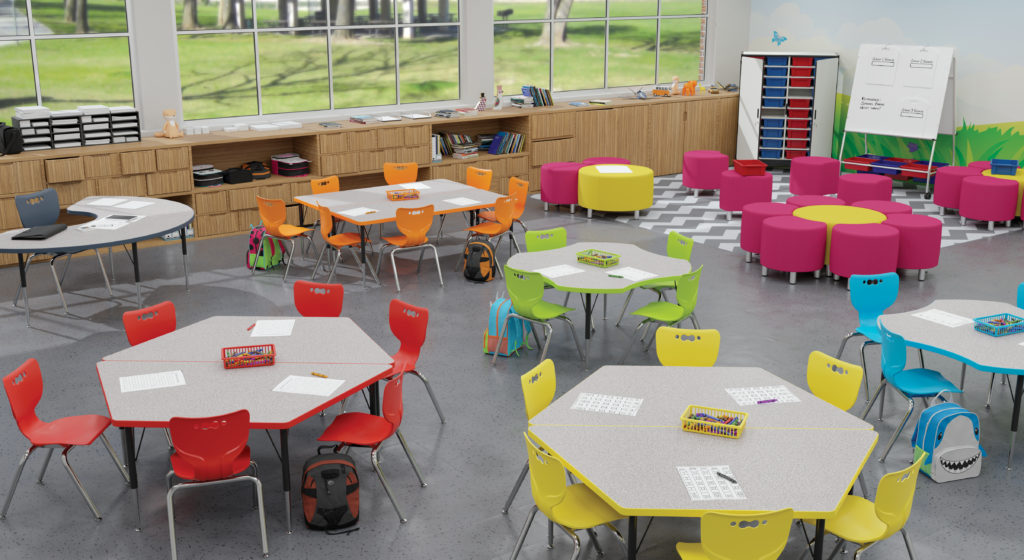 The Formula to a Flexible and Inviting Classroom? Movement & Relaxing Setups
Our last blog post talked about our design principles and how they spark creativity, comfort, and overall productivity in a learning environment. Now, let's talk about the best practices in furniture configuration and the benefits both students and educators can get when designing their room layout.
What's the Buzz Around Soft Seating?
Research has shown that incorporating sofas, poufs, ottomans, and couches brings a "homey" feel to an environment. This allows kids of all ages to relax, focus on a challenge, and better communicate with their peers and educators. Teachers also have the chance to sit next to their students to have one on one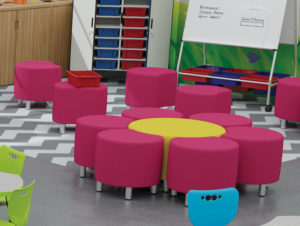 conversations, which are more informal and personal. Students get the chance to stretch out, lay on their stomachs, and stimulate circulation to engage in a different activity. Typically, soft seating units are placed in the corner or back of rooms as reading and concentration stations.
Mobile Boards: How Should They Be Used?
Not everyone learns at the same pace and dividing classes into small groups allows teachers to organize students according to their learning style. That's when a small mobile board comes in handy. It helps teachers keep up with tasks, assignments, examples, and notes to keep track of students who are following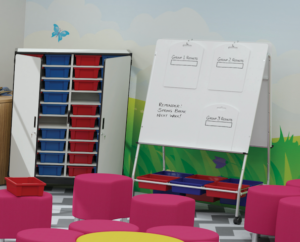 different lesson plans. Mobile boards have the ability to move around the room easily, allowing students to access the board as well. Many teachers will use a couple of mobile boards in different colors and assign different "teams" or "groups" to each board.
Configurable Desks: You Bet!
We've heard it over and over, collaboration, the most important tool in modern classrooms. Desks can easily be arranged into large or small groups, lines, or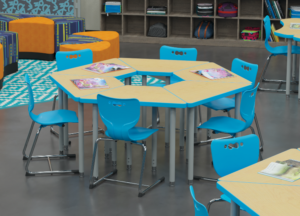 circles. Each configuration can be arranged effortlessly and quickly and engages the students by making them responsible for moving their own desks. The setting can be arranged for collaborative learning or lined up for testing.
Grow Stools: Where Should They Go?
We know movement in classrooms helps stimulate the brain, but when and where should these products be placed? Typically, educators will place wobble stools in the back of the classroom to keep students who need movement away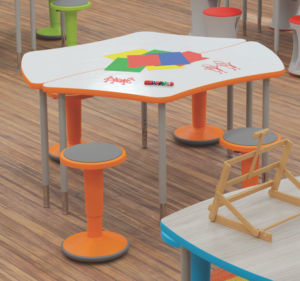 from the front of the class. Since the stools are height adjustable, students will be in direct eye contact with their teacher regardless of their height. Another perfect place for wobble stools is around the teacher's desk for student assessments. The movement of the stools allows kids to settle their restlessness and engage in their tasks.
Time to Recharge!: The Power Tower
Tablets have replaced books and notebooks and students are always circulating from room to room while using these new devices. Charging carts are great - but not very accessible. A simple solution to this problem is to add a couple of small Power Towers to your classroom.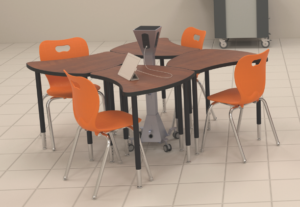 These are portable and may be placed in-between desks to avoid disrupting the classroom layout and teacher's mobility. They can also be placed among soft seating configurations in lounge areas, as well as in libraries.
Teachers Need to Move Too!
Classroom configurations should accommodate student and instructor needs. Teachers need to find the right spot to address the class, once the students are settled. Let's keep in mind that most teachers prefer to stand while they teach, so having a stand-up unit is ideal. A compact, easy to move station with storage is an educator's perfect solution.
Topics: Collaboration