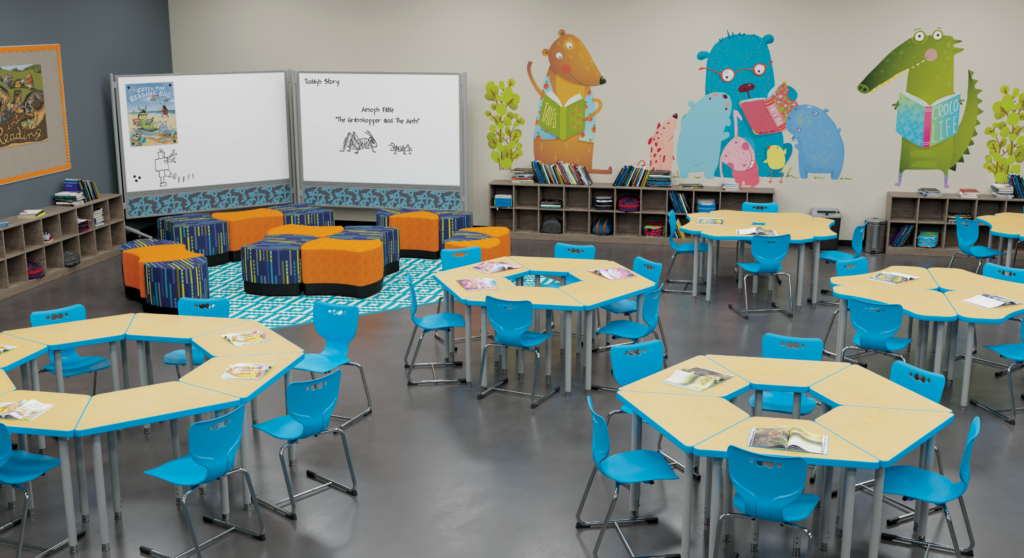 The Great Divide: Privacy Without Boundaries
Classroom design has undoubtedly changed in the last few decades. The days of static desks and rigid student chairs placed in repetitive rows are a thing of the past. Teachers and students want to engage in environments that stimulate learning and interaction, with spaces that are comfortable and inspiring. A large part of this new trend is a philosophy that we like to call "privacy without boundaries": spaces that are accessible yet private at the same time. In this blog post, we'll take a look at what inspired our design team to develop products around this philosophy and provide some specific examples of how this can be applied to your classroom to create a more engaging and dynamic learning environment.
Dividing Your Classroom Space While Keeping It Integrated
Since today's classrooms are open and fluid, we need to be creative about the ways we divide our spaces. The word 'divider' already establishes a boundary; an isolated space. When developing the Divvy DOC Partition, our team of designers considered three fundamental classroom needs: movement, environmental integration, and the flow of light. By incorporating acrylic panels onto the top of the Divvy DOC, light continues to flow through the room unrestricted. The individual panels can be matched to laminates and fabrics in the classroom, allowing it to blend into the environment. The flat leg design makes it ideal for stacking against the wall when it's ready to be stored away.
The use of a mobile divider like a Divvy Doc or Glider Mobile Whiteboard allows you to create multiple designated classroom spaces without worrying about permanence. Use these to assign multiple groups of students onto different projects. When the projects are complete, simply roll the dividers against the wall to bring the entire class back together. Since these dividers are mobile, classroom configurations can be reworked at the drop of a hat.
Student to Teacher: One-On-One Interactions
Student and teacher meetings, assessments, and behavioral management no longer have to take place across an intimidating teacher's desk. The integration of soft seating into classrooms is a relaxed and welcoming solution for teachers and students alike. With this idea in mind, our team of designers were challenged to develop a product which could provide both the comfort of soft seating and the privacy of a divider. In response to our 'privacy without boundaries' philosophy, the Privacy Pod was created. The upholstered pod creates a sense of seclusion, while the entrance allows for freedom of movement. The built in table provides a personal space for the student to read and write while the teacher sits nearby, making it ideal for one-on-one interactions.
Student to Teacher: Open Interactions
Teachers expect to connect with their students in an open and dynamic environment. When both the student and teacher are comfortable, conversations flow more freely and the students aren't as timid. Circular settings, in comparison to linear ones, stimulate interaction and promote eye contact, which results in more engagement between participants. Products such as the Cocoon and Vivid encourage these interactions by fostering less formal, more relaxed environments.
When designing your classrooms, think about spaces where the "privacy without boundaries" principle can be implemented. Keep in mind that studies have shown that when students are comfortable, they learn better. Creating these spaces has never been easier with the products that are now on the market. If you have any questions about bringing this philosophy to life in your classroom, please reach out to us. We would love to help.
Topics: Design