What is CTE?
Career and Technical Education (CTE) refers to the process of experiential learning, a practice that allows students to test-drive future career paths through real-world experience before or while pursuing higher education. Traditional learning methods encourage reading, research, and gathering information on a subject before entering the field, while CTE environments emphasize learning by doing, gaining experience on the job, and strengthening technical skills, knowledge, and training necessary to become a lifelong learner. CTE prepares learners for workplace competence by making academic content accessible within a hands-on environment.
Some of the many benefits CTE has to offer include promoting DEI, inclusivity, entrepreneurship, and independence. Gen Z and Gen Alpha students will encounter novel experiences from a variety of individuals that come from different backgrounds, have their own unique skillsets, and bring new knowledge to the table. Since younger generations are already finding ways to adopt new skills on their own – nearly 60 percent of Gen Z-ers learn through watching YouTube – the future of education is leaning toward CTE programs. According to the Advance CTE national nonprofit, "the high school graduation rate for CTE concentrators is about 90 percent – 15 percentage points higher than the national average." Building out CTE environments within educational spaces helps to advance learning methods as younger generations evolve.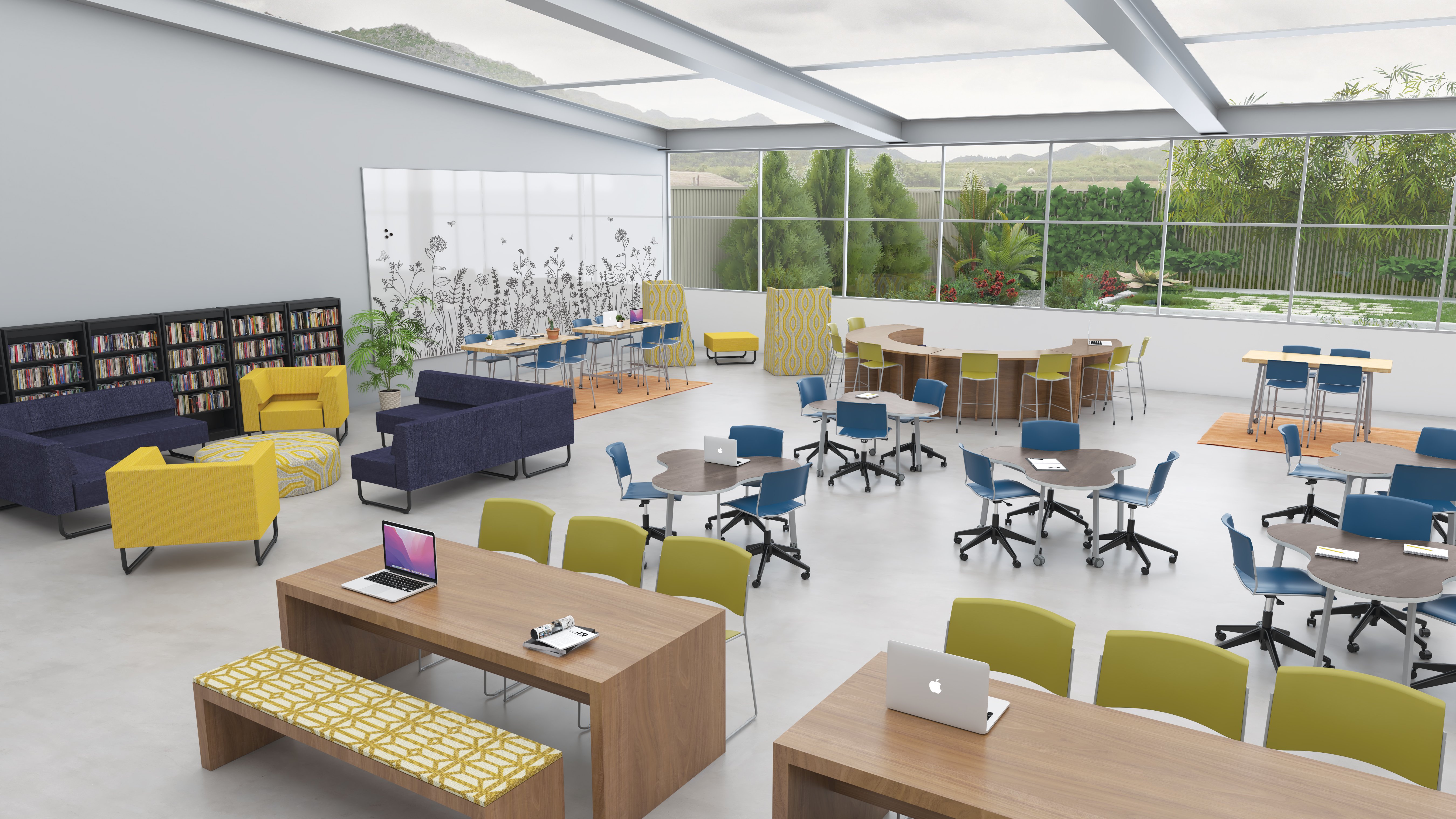 How to Build CTE with Akt Furniture
Our Akt family of soft seating, tables, and accessories is well-equipped to create CTE environments within learning facilities and educational spaces, combining the principles of human development empower students to "akt" with purpose and intention.
The Akt seating line is ideally suited for students who are thinking about pursuing higher education or hands-on internships within their branch of study. Designed to build out sophisticated and sleek CTE environments, Akt seating can be used to cultivate collaborative workspaces, team environments, and individual desks. The Akt Wire Base Chair is crafted with a high-density stacking wire base that can stack up to 20 chairs high on the floor or up to 40 in the accompanying cart, making it easy to transport and recreate CTE environments wherever they are needed. The injection molded polypropylene shell is available standard in a range of colors, including custom shades to match school colors, and provides ample back support.
Soft seating can be designed for group dynamics, particularly with the Akt Lounge High Back Seat, which provides an extra layer of privacy in public spaces. The taller legs allow most vacuums to fit beneath, and each piece features gaps with spacers between the back, arms, and seat to allow crumbs and dirt to fall to the ground where it can be easily vacuumed. Matching lounge tables complete the look, also featuring space underneath that is easy to clean as a hygienic solution to health concerns in a post-pandemic world.
Akt seating pairs beautifully with well-appointed Akt Tables, which offer up a blank canvas for endless possibilities and opportunities for growth. Akt Tables are available with laminate or butcher block tops to provide ample writing and laptop space for team cohesion. Akt Tables help students work together and learn from each other, offering plenty of room to get creative, collaborative, and messy within CTE environments. Featuring a unitized frame for improved structural strength and stability, Akt Tables come in fixed height tabletops available in 29", 36", or 42"H models. The two taller sizes include an integrated footrest, allowing students to sit, stand, or perch throughout the day, depending on their energy levels and what each project requires.
Topics: Akt, CTE, Experiential Learning