A new and improved way to organize classrooms and transform learning environments.
Introducing the Compass Collection
When Leif Erikson and the Vikings traveled to the Americas in the 11th century, they set course for the Hebrides and happened upon modern-day Canada instead. When Christopher Columbus and the Spaniards came to the Americas in the 15th century, their intended destination had been India. Fast forward to the 20th century, when NASA's Apollo program began. Apollo 11's successful moon landing was the result of years of trial and error, and several "failed" missions before a safe landing and return to earth took place.
Although the most notable explorers in history come from varied periods, backgrounds, and nations, what they share is a tenacity for discovery and a curiosity for knowledge. They also share a flawed trajectory; mistakes that needed to be learned from, tools that needed to be improved upon, and courses that needed to be corrected.
The explorers of today are no different. They possess the tenacity and curiosity needed to succeed in their mission. Instead of rocket ships or voyaging vessels, they come to their discoveries on desks, tables, and computer chairs. Our modern-day explorers are students, and educators serve as their guides on the journey to self-discovery.
What they need to succeed are superior tools. While serendipity and innovation have taken part in the creation of furniture and supplies since the dawn of humankind, careful crafting has gone into improving upon tools that already exist. We believe we've come up with the best solutions for classroom discovery with our new Compass Collection, enabling our youngest explorers to succeed in every mission.
Navigating a New Approach to Learning
Compass by MooreCo is a new and comprehensive line of storage cabinets and makerspace furniture designed to get the most out of your classroom space and your time with students. We brought our Hierarchy Mighty 8 design principles to full expression when creating Compass, with focus on adjustability, mobility, color, simplicity, visibility, engagement, comfort, and collaboration.
The Compass line is as functional as it is versatile, balancing the need to have supplies and tools handy with ample workspaces designed for thought, play, and organization. Each piece was created with learners of all ages and rooms of all sizes in mind.
The result is a collection that facilitates hands-on learning and improved mobility for educators, leading to a dynamic and engaging classroom environment. Whether it's the design of a makerspace, transforming a lab, or renovating a computer room, adding Compass to your educational spaces will give you and your students more freedom to explore.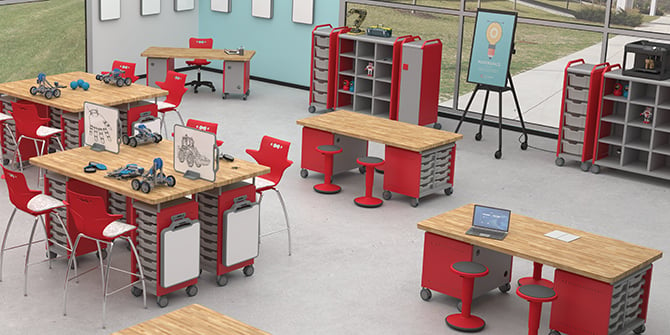 Compass Cabinets
We created a series of cabinets with innovate teachers in mind, allowing for space, movement, ample storage, and adaptability. Available in nine base sizes, the Compass cabinets are light and mobile, making them ideal for active teaching. Add handles to quickly and smoothly move materials throughout the entire classroom.
Easily create custom filing stations, work tables, or teacher desk spaces with these durable cabinets, reinforced with braces for structural stability. Fill your cabinets with shelves, cubbies, or plastic totes to suit your lesson plans and curriculum. Side panels and optional handles match our Hierarchy family of colors, encouraging creativity, play, and school spirit.
Optional add-ons include peg side panels, Ogee double-sided whiteboard tops, TV mounts, laminate or butcher block tabletops, wardrobe hooks, porcelain steel whiteboard backs, and more. Crafted with durable and easy-to-clean steel, these cabinets will last years, simplifying daily activity for teachers while keeping students engaged.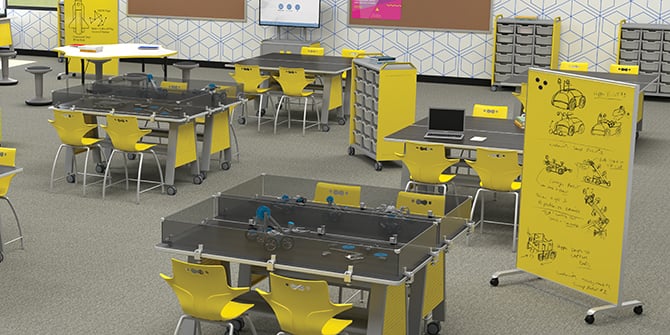 Compass Makerspace Tables
More than ever, educators are being challenged to create active learning environments that encourage creative thinking. Compass Makerspace Tables were designed to facilitate this process, creating an atmosphere where discovery can take place through hands-on learning.
Designed to accommodate sketching, experimenting, building, and other facets of the creative process, Compass Makerspace Tables make it easy to create an atmosphere where discovery can take place through hands-on learning.
Tables come standard with durable and scratch-resistant laminate tops, or you can upgrade to butcher block tops that are made of solid maple hardwood, designed to withstand years of use in a variety of settings. Optional side panels and shelves complete the tables, providing storage for learning tools. Side panels include peg holes to keep tools handy and organized, leaving a clear tabletop for better use
The side panels and laminate top edgeband colors come in all Hierarchy colors, allowing easy color-coding of zones or other spaces.
Compass Makerspace Tables are safe and suitable for students of all ages, with rounded-edge tops that reduce bumps and bruises. Tables are available in multiple heights and widths, allowing students to sit or stand while working.
Discovery Tools, Perfected
While others have created similar cabinets and makerspace tables, we believe we've made improvements that make Compass a line of educational furniture that is unparalleled in our industry. For example:
The Compass Collection features doors that fold completely flat to avoid obstruction and accidents.
Rounded edges on tabletops make Compass makerspace surfaces safer for small children.
Reinforced brackets in cabinets make for sturdier construction that won't buckle under pressure.
The cabinet doors on both the left and right single cabinets transform into deks.
The Compass Collection features the option to add a set of handles to move cabinets more easily throughout each room.
All cabinets are available for Quick Ship in just 10 days.
Back panels are constructed of easy-to-disinfect porcelain steel, rather than painted steel, and are available in all sizes.
Even in the largest size available, our Maxi H3 is still lightweight and more mobile than the competitor's.
Compass cabinets can hold shelves or tubs, as the rails on each are not fixed.
These are just a few reasons that the Compass Collection is superior to other versions of educational cabinets and workspaces.
Endless Possibilities
A variety of customizable configurations is available with the Compass Collection. The Makerspace Tables fit into a variety of settings, available in 29", 36", and 42" height options with surfaces to suit any classroom. Thermoplastic elastomer casters make it easy to move these sturdy workspaces and lock them into place. Add cabinets alongside tables to store materials for learning with tubs, cubbies, or shelves.
Inspire creativity with workspaces that are playful and practical. Side panels with peg storage can be added to table bases and are available in Hierarchy colors. Create increased storage space with shelves that attach beneath each table's surface. Antimicrobial butcher block tops are 1.8" thick solid maple that resists denting and damage, even with years of use. Build the space to suit the needs of your classroom, with or without side panels and additional storage.
Supplies and tools become easy to access with plastic totes, shelves, and cubbies that conveniently hold everything you need to complete projects, lessons, and experiments. Laminate-surfaced tables provide easy cleanup after projects and will accommodate Makerspace Robotics Wall Kits. Any learning environment becomes a workroom with organizational tools and shelving that make storage a snap. Help your students discover a new world in each classroom with the Compass collection.
We're Here to Help…
While cabinets and tables are not a new tool in the kit to discovery, improvements upon existing models will help students and teachers make the best out of their educational environments. Learning, movement, and creativity are enhanced with the right organizational equipment, and we believe we've perfected the old model of cabinets and workspaces for the needs of the future. Let us know how we can help make your vision a reality, as you create the classrooms and learning spaces that you visualize for your school. Your students will discover a new world in each classroom with the Compass Collection.
Topics: Active Learning, Active Classroom