In order to thrive, students should have all intellectual, physical, psychological, moral, spiritual, and social-emotion needs met. Have a positive impact on the health and happiness of your students by outfitting media spaces with intentional, thoughtful, and inclusive furniture.
Media centers are multi-purpose spaces and serve as communal hubs to gather, research, collaborate, and engage in problem solving and critical thinking activities. Inspire and empower your students and set them up for success with an intentionally designed media center that meets their developmental needs.
High School Media Center Furniture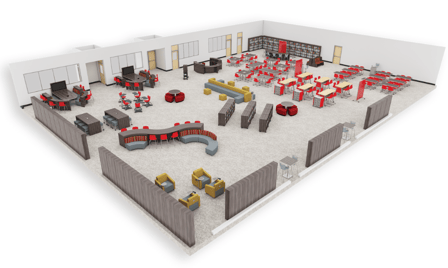 The high school years represent the finish line of the K-12 journey and serve as the
steppingstone for students to make the transition into higher education or the workforce.
Students are learning to become more comfortable with themselves and discovering how
to get what they need to achieve their goals.
Media centers in high schools should resemble modern working environments and
include adaptable furnishings and technology that students may encounter in offices or
universities. MooreCo designers can outfit a media center with transitional furnishings
and simultaneously create a dynamic, collaborative space that developing high school
minds still need.
Furniture for High School Media Centers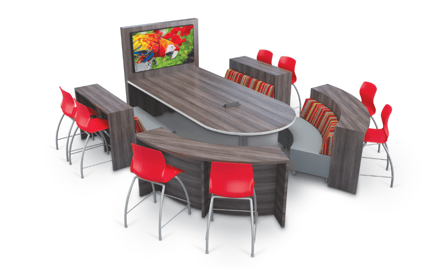 Media centers with digital meeting areas that mimic office settings build life skills such as teamwork and interoffice communication. The Cocoon Media Space combines technology and functionality. With versatile and independent seating, this setup is ideal for encouraging students to think outside the box while practicing in-person collaboration or working in a hybrid setting.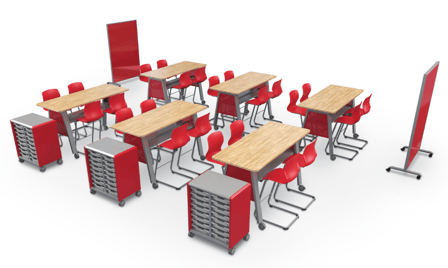 Today's media spaces are equipped with many different kinds of resources. A maker space provides an dedicated zone that encourages creativity, boosts experimental learning, and helps develop life skills such as teamwork and inclusivity.
Standing Compass Makerspace Tables with durable butcher block tops and Seed Cantilever Stools makes the perfect fabrication space. The table provides ample space to spread out and create and the stool gives active students a place to perch or sit and still lean, reach, and quickly move. Add peg board side panels and Compass Cabinets to keep tools organized and accessible. Finally, a colorful Hierarchy Grow & Roll Mobile Magnetic Glass Board is the epicenter of powerful brainstorming and energetic collaboration.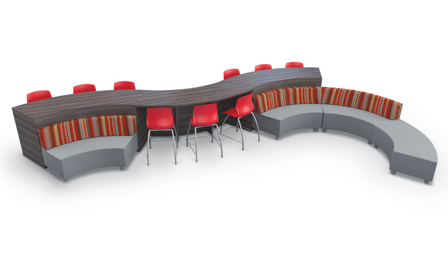 Public speaking and project presentation are vital real-world skills high school students will be expected to perform. Practice presentation zones with comfortable, mobile soft seating like the Cocoon and Cocoon Benches can create a variety of setups that accommodate large groups or small, break-out groups. Add
Seed Cantilever Stools for spectators or to encourage solo work.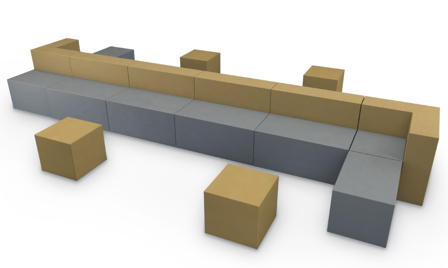 Time management and coping with stress are important skills for entering the workforce. Media centers equipped with cozy, Elevate Wind soft seating allow students to rest, recharge, and plan the rest of their day. Components easily move for quick reconfigurations depending on the needs of the space and the students.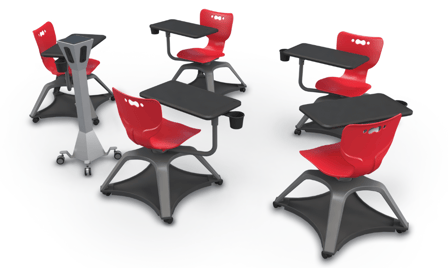 People entering the workforce will be expected to be self-motivated, productive, and stay on task. Enroll® Tablet Chairs + Hierarchy Shells and other mobile, flexible furnishings allow students to quickly and easily improvise
small group learning or break away for independent work time. Add a MoorePower® Tower and students can stay charged and connected on the go.
Desks for High School Media Centers
The workstation needs of K-12 students change dramatically over the course of their development. The MooreCo collection of desks will take students from their first day of school through graduation and into the work force. Our desks are easily adjustable and mobile and can adapt to the needs of any learning style.
Configurable, adjustable desks for high school students like the Hierarchy Creator Desk-Half Circle and the Hierarchy Shapes Desk allow them to customize their workstation to fit their individual needs.
Tables for High School Media Centers
Tables provide ample space for students to collaborate, experiment, and create. MooreCo offers a wide selection of sizes, colors, finishes, and materials to fit the needs of any media center.
The increased workload of high school
students requires them to engage
in concentrated work time. Flexible,
sit-to-stand tables like the Hierarchy CogNitiv Table and Frequency Table X-Base allow for an
uninterrupted flow of energy from the mind
and body.
Seating for High School Media Centers
Young bodies benefit from moving and stretching as much as older bodies. Ergonomic seating will help calm fidgeting and keep students comfortable and focused. At MooreCo, we engineer seating to fit the bodies of all learners and outfit them with a variety of bases.
High school students need to stay alert and
active over long periods of concentrated
work. Ergonomically supportive chairs like the Akt Wire Base Stool and Elate Perch Stool
allow students to move from sitting
to standing to perching with ease.
High school students are learning autonomy and independence. Lounge seating like the Double Privacy Pod gives them the freedom to choose private or social working spaces.
Custom Furniture for Media Centers
No project is too big or too small! Made to your specifications with high quality materials, MooreCo offers you the opportunity to outfit your space with bespoke furnishings, including desks, tables, chairs, soft seating, information stations, visual communication materials, and more in less time than you could imagine.
We provide you with end-to-end guidance, from seed to fruition, with a dedicated project manager. Our team of designers will present a selection of choices, tailored to fit your unique needs. Finally, we will deliver and install your beautiful, ergonomic, and versatile furnishings on budget and on time. If you can dream it, MooreCo can build it!
Reach out to your business development manager to start your custom project or visit www.mooreco.com/studio to submit your request.
Topics: Color, Collaboration, Design, Active Learning, Human Development, Compass, Thrive, Experiential Learning, Media Centers