In order to thrive, students should have all intellectual, physical, psychological, moral, spiritual, and social-emotion needs met. Have a positive impact on the health and happiness of your students by outfitting media spaces with intentional, thoughtful, and inclusive furniture.
Media centers are multi-purpose spaces and serve as communal hubs to gather, research, collaborate, and engage in problem solving and critical thinking activities. Inspire and empower your students and set them up for success with an intentionally designed media center that meets their developmental needs.
Middle School Media Center Furniture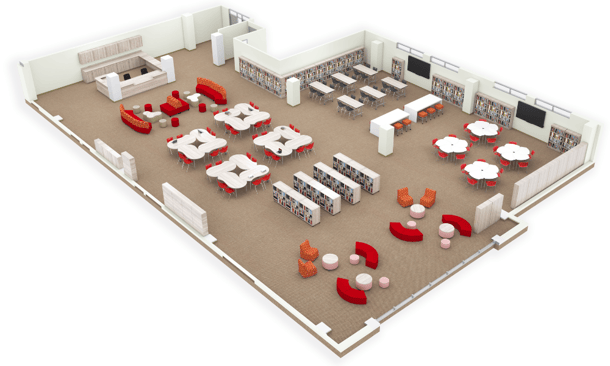 The middle school years can be tough as students enter adolescence and the uneven pace
of the physical, emotional, and cognitive development of boys and girls is most noticeable.
Curiosity takes new heights and students are testing authority and pushing boundaries.
During this stage, schools focus on mentoring students to help develop advocacy,
responsibility, accountability, and an understanding of consequences.

Media centers for the changing bodies and minds of these students should encourage
their need to explore information and relationships, both intra and interpersonal. MooreCo
designers create media spaces that balance the structure middle school students need while encouraging their independence.
Furniture for Middle School Media Centers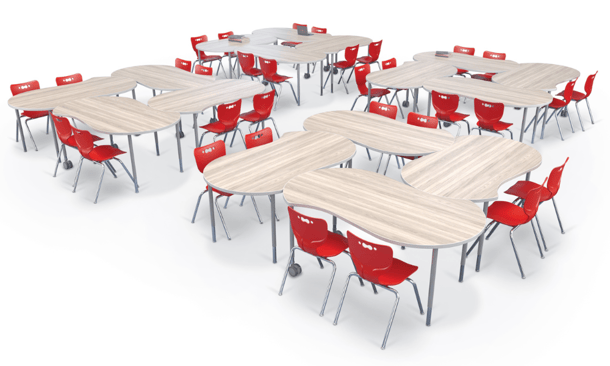 Middle school students often need encouragement to interact and engage. Collaboration zones with fun, versatile table shapes like the Hierarchy Twister Table allow them to develop valuable social skills while learning from each other.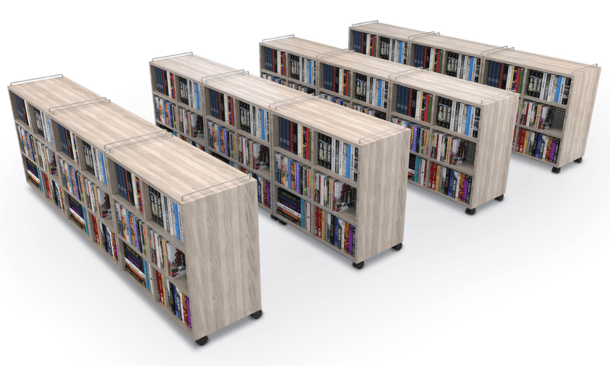 Middle school students are beginning to explore subjects and interests on their own. Ample, seamless storage and shelving provided by Schoolworks Bookcases keep books and study materials organized and accessible to foster their new autonomy.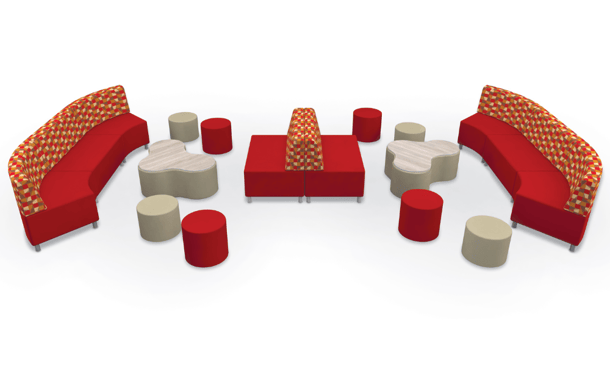 Media centers build more than just study skills. Kids Loveseats and Kids Inside Wedge Chairs create cozy areas and give students spaces to explore where they learn best and provide essential time to rest and recharge while working or socializing. Dot Rocking Stools and Cloud 9 Bench-Table Top are fun, mobile pieces that give middle school students freedom to personalize their learning spaces.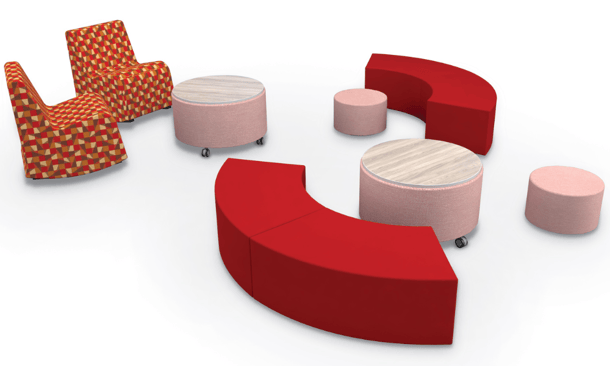 Creative, curvilinear arrangements with Elevate Wind Arch Benches and Blossom Ottomans with mobile Blossom Ottoman-Table Tops give growing bodies a variety of supportive seating.
Clusters of soft seating that rock and swivel such as the Soft Sway Rocking Chair let middle school students burn off extra energy, help with anxiety and fidgeting, and allow teachers to break into smaller learning groups.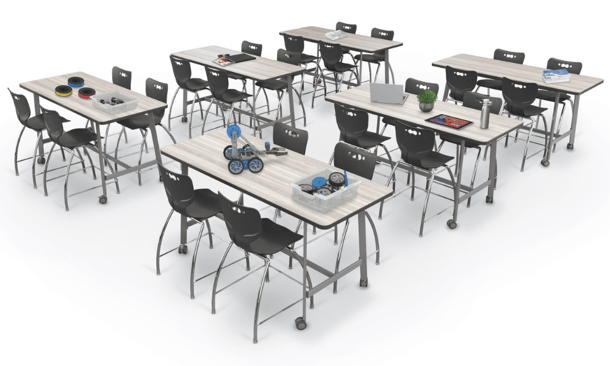 Media centers are hubs of creativity. A dedicated zone for a maker space accommodates collaborative projects and extracurricular activities and should support digital tools as well as hands-on materials. Akt Tables with Hierarchy 4-Leg Stools give students ample work surface and freedom to move and experiment with a variety of resources.
Desks for Middle School Media Centers
The workstation needs of K-12 students change dramatically over the course of their development. The MooreCo collection of desks will take students from their first day of school through graduation and into the work force. Our desks are easily adjustable and mobile and can adapt to the needs of any learning style.
Hierarchy Creator Desk + Porcelain Steel Top helps middle school students organize thoughts and ideas and sharpen critical thinking skills. The porcelain steel top allows them to collaborate and brain storm and wipes cleanly for the next project.
Tables for Middle School Media Centers
Tables provide ample space for students to collaborate, experiment, and create. MooreCo offers a wide selection of sizes, colors, finishes, and materials to fit the needs of any media center. Unique shapes allow tables to cluster into groups and align into different configurations.
Middle school students are learning to interact, engage, and collaborate on their own. Tables in a variety of shapes such as the Hierarchy Cloud 9 Table foster this vital developmental milestone and can be moved and arranged to accommodate solo or group work.
Seating for Middle School Media Centers
Young bodies benefit from moving and stretching as much as older bodies. Ergonomic seating will help calm fidgeting and keep students comfortable and focused. At MooreCo, we engineer seating to fit the bodies of all learners and outfit them with a variety of bases.
Middle schooler bodies grow at different rates. Counter height and adjustable seating such as the Hierarchy 4-Leg Stool and Hierarchy 5-Star Stool allow for students to easily customize the height to their needs.
Comfortable, movable, and adjustable, Elevate Steps Tiered Soft Seating invites relaxation and collaboration while accommodating the physical needs of adolescents.
Custom Furniture for Media Centers
No project is too big or too small! Made to your specifications with high quality materials, MooreCo offers you the opportunity to outfit your space with bespoke furnishings, including desks, tables, chairs, soft seating, information stations, visual communication materials, and more in less time than you could imagine.
We provide you with end-to-end guidance, from seed to fruition, with a dedicated project manager. Our team of designers will present a selection of choices, tailored to fit your unique needs. Finally, we will deliver and install your beautiful, ergonomic, and versatile furnishings on budget and on time. If you can dream it, MooreCo can build it!
Reach out to your business development manager to start your custom project or visit www.mooreco.com/studio to submit your request.
Topics: Color, Collaboration, Design, Active Learning, Human Development, Compass, Thrive, Experiential Learning, Media Centers