In order to thrive, students should have all intellectual, physical, psychological, moral, spiritual, and social-emotion needs met. Have a positive impact on the health and happiness of your students by outfitting media spaces with intentional, thoughtful, and inclusive furniture.
Media centers are multi-purpose spaces and serve as communal hubs to gather, research, collaborate, and engage in problem solving and critical thinking activities.
Elementary School Media Center Furniture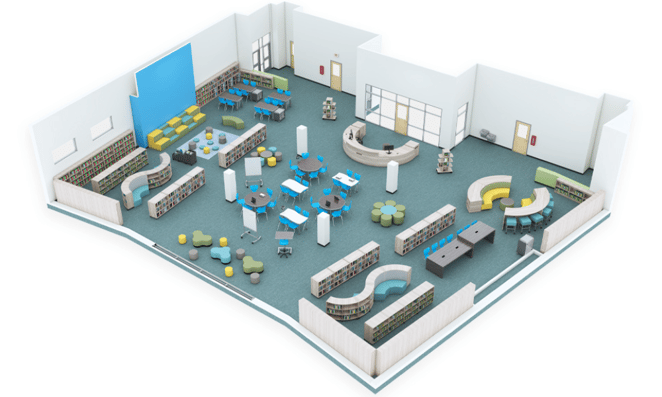 Inspire and empower your students and set them up for success with an intentionally designed media center that meets their developmental needs.
The elementary years are full of milestones. Many students are first exposed to reading and writing, math, science, and the arts. Children at this age possess great imagination, curiosity, and physical energy. Media centers for our youngest learners should evoke their world.
Outfit media centers for elementary schools with lively colors that spark creativity. Desks and tables can be quickly and easily arranged into different configurations to accommodate learning styles and activities. Versatile furnishings help media centers constantly evolve to keep up with new technology and teaching methods. Fun and accessible storage encourages curiosity and autonomy. A variety of desks, chairs, and soft seating allow students to explore different environments and find one they enjoy.


Furniture for Elementary School Media Centers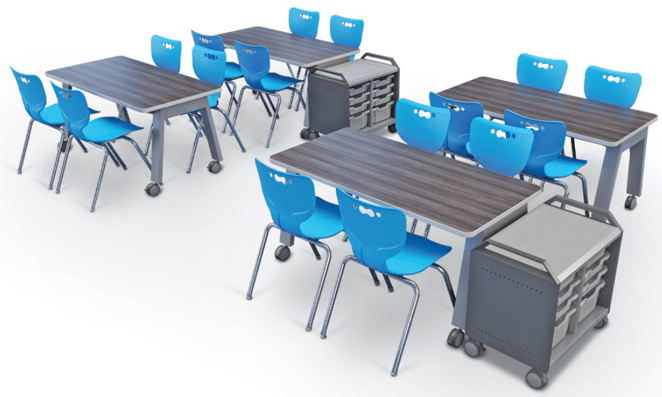 Outfit a collaborative workstation with Compass Makerspace Tables, Compass Cabinets, and Hierarchy 4-Leg Chairs. The wide tables provide ample space for group activities. Casters allow students to easily reconfigure the setup to meet their needs.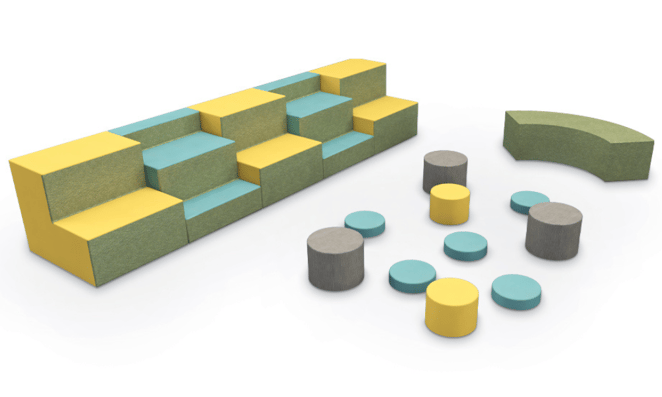 Adaptable, tiered Elevate soft seating and Dot Rocking Stools create dynamic spaces for communal reading, performing, and imaginative playtime.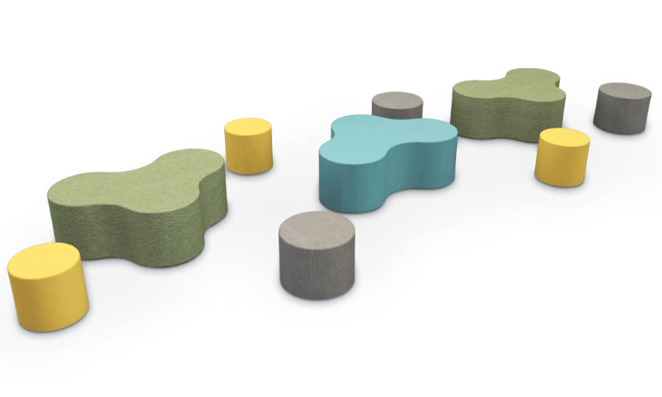 Multiple areas with a variety of soft seating like the Cloud 9 Bench give teachers the option to easily break out into learning groups and allow students to find the space where they can think and work best. Students who are easily stimulated benefit from adaptable arrangements that provide individual spaces as needed without feeling left out.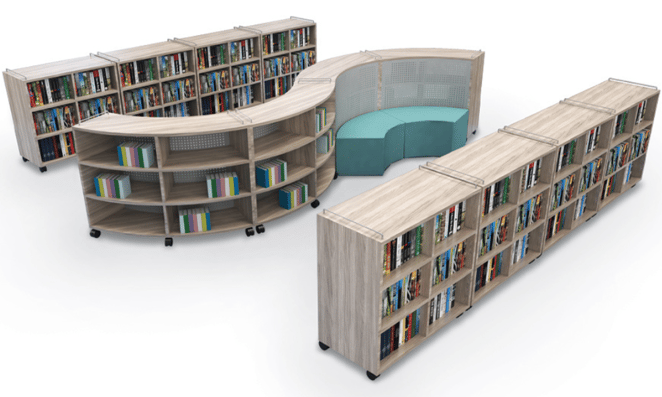 Private, calming spaces such as reading nooks created with Schoolworks Bookcases and Schoolworks Ottomans allow young students to recharge and focus. They can be used for solo work or for one-on-one time with their teacher.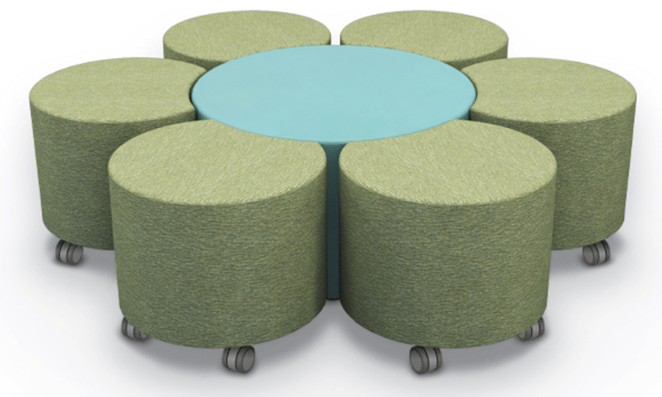 Blossom soft seating is a collaborative pod that can easily transform from group work to into individual space.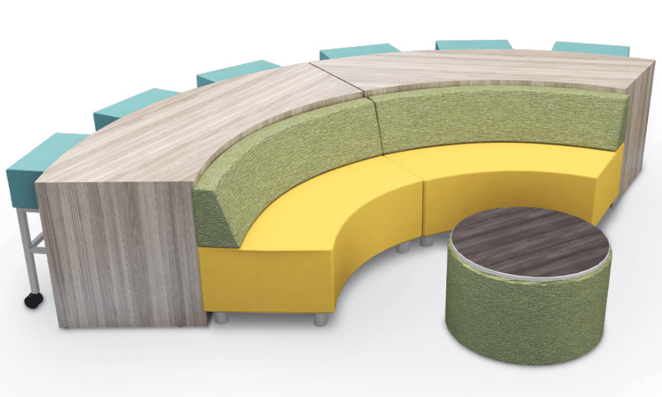 Presentation zones that include cozy furniture include the MooreCo Cocoon, Blossom Ottoman - Table Top, and Mobile Soft Seating Stool encourage young learners to share their ideas and learn from each other. They provide comfortable seating for listening, engaging, and interacting.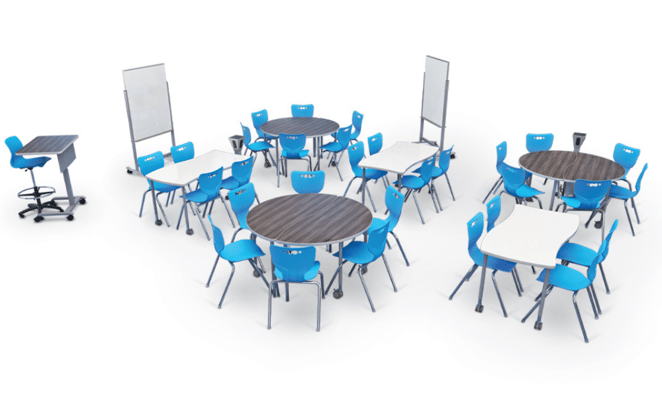 Collaborative work zones with a variety of seating and table shapes like the Hierarchy Creator Table (Half Round) make group work easy. Group work is not only ideal for intellectual development at this age, it also strengthens psychological, moral, and social-emotional learning. Hierarchy Creator Tables with standard laminate tops or porcelain steel tops give students and teachers a creative workspace where ideas and teaching methods can be shared all in one spot.
The Hierarchy Grow & Roll Desk + Modesty Panel and the Seed 5-Star Stool act as a mobile teacher station. Instructors can move easily to assist students and accommodate any activity.
Finish this space with a Visionary Move Mobile Magnetic Glass Board and you've created the ultimate, flexible learning environment. The glass board can be moved around the space during floor activities and group instruction and even doubles as a space divider.
Desks for Elementary School Media Centers
The workstation needs of K-12 students change dramatically over the course of their development. The MooreCo collection of desks will take students from their first day of school through graduation and into the work force. Our desks are easily adjustable and mobile and can adapt to the needs of any learning style.
Elementary school desks like the Hierarchy Creator Desk in a triangular shape, and the Hierarchy Fender by MooreCo Desk come in fun shapes and colors to spark creativity and imagination.
Tables for Elementary School Media Centers
Tables provide ample space for students to collaborate, experiment, and create. MooreCo offers a wide selection of sizes, colors, finishes, and materials to fit the needs of any media center. Unique shapes allow tables to cluster into groups and align into different configurations.
Elementary students need the most one-on-one attention. Tables like the Hierarchy Quad Table and the Hierarchy Activity Table allow teachers to engage with students while they interact with peers to build valuable social skills.
Seating for Elementary School Media Centers
Young bodies benefit from moving and stretching as much as older bodies. Ergonomic seating will help calm fidgeting and keep students comfortable and focused. At MooreCo, we engineer seating to fit the bodies of even our youngest learners and outfit them with a variety of bases.
Elementary school seats are brightly colored and perfectly sized for small, growing bodies. Chairs like the Hierarchy 4-Leg Chair and the Hierarchy Rocker Chair are flexible, lightweight, and can be made to roll, rock, or swivel to calm fidgety bodies. Hierarchy Chairs come with 12" and 14" shells to comfortably accommodate small, developing bodies. Shells flex to support kids when they are in this highly active stage.
Early learners love to engage more when they are on the floor. Soft Seating Seat Pads and Dot Rocking Stools can be arranged into learning groups and easily stacked and stored in a Dot Cart when not in use.
Soft Sway Rocking Chairs were designed for kids who prefer motion either to focus or to manage excessive energy, while offering a cozy way to read a book or simply relax.
Custom Furniture for Media Centers
No project is too big or too small! Made to your specifications with high quality materials, MooreCo offers you the opportunity to outfit your space with bespoke furnishings, including desks, tables, chairs, soft seating, information stations, visual communication materials, and more in less time than you could imagine.
We provide you with end-to-end guidance, from seed to fruition, with a dedicated project manager. Our team of designers will present a selection of choices, tailored to fit your unique needs. Finally, we will deliver and install your beautiful, ergonomic, and versatile furnishings on budget and on time. If you can dream it, MooreCo can build it!
Reach out to your business development manager to start your custom project or visit www.mooreco.com/studio to submit your request.
Topics: Color, Collaboration, Design, Active Learning, Human Development, Compass, Thrive, Experiential Learning, Media Centers