How to Thrive in Times of Uncertainty
Part 1: Social-Emotional Development

When we launched our Thrive campaign in 2019, we chose to highlight the six characteristics of human development. Our mission was to create inspiring environments that support growth in the six developmental stages and contribute to the formation of balanced, healthy, productive, and inspired human beings.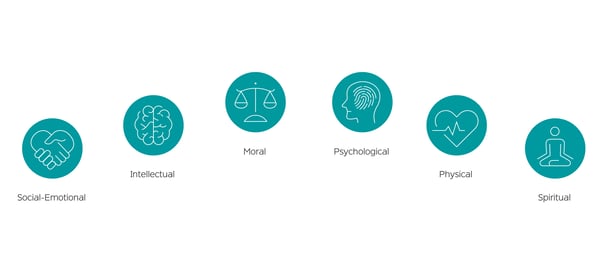 The world has since shifted, causing our nation to reevaluate how we learn and interact with others. This may have a profound effect on students' ability to thrive. For this reason, we've stayed on top of growing trends and research that will help educators and parents know how to help their scholars stay on track in times of uncertainty. This post is the first of many in a series on how we can keep students thriving, despite trying times and uncertainty.
What is Social-Emotional Development?
Social-Emotional development is crucial to productivity from our adolescence to our senior years. It establishes the ability to make meaningful connections with individuals and groups. Extra-curricular activities and peer-to-peer interaction are imperative for social-emotional development. But during uncertain times, when students are forced to change their routines, they may be without these necessary interactions that forge the foundation for life-long mental health and lasting relationships. So, what can be done to help students continue on the path to empathy, awareness, and emotional intelligence?
Expert Tips on How to Keep Students Thriving
Adam Avila is a licensed professional counselor who works with children and teens. He says that although COVID-19, civil unrest, and an economic downturn have changed our daily lives, the news isn't all bad. Avila says that children are resilient, and that even though uncertainty looms, it is possible to help to secure their social-emotional development with a few key steps:
Have Conversations. Avila says that as a therapist and parent of two boys, he sees having open conversations with kids as a primary path to emotional security. Since kids and teens are aware of what goes on in the news, it isn't helpful to pretend it isn't happening. Avila says that it's also important to not tell kids what to think, but instead to find out how much they know and how they are handling their own emotions. He suggests opening conversations around the dinner table or in-class discussions with "How are you processing all of this?" or "What do you need from me?" to help students get through the tough times.
This Socratic-style of asking questions to teens about the pandemic or racial injustice will not only help them process their emotions, it will also allow them to flex critical thinking and analytical skills. It may be tempting as a parent or educator to think that not having all the answers means you're unprepared to help students through crisis. Avila says this is untrue. Instead, open dialogue can help students feel heard and establish a sense of safety and trust.


Establish a Routine. Avila says that the teen years are all about the ability to take "safe risks". But during lockdowns and protests, it can be hard for parents and kids to feel safe in their surroundings. He says that helping students establish a sense of safety is all about routine and consistency. Even as learning methods shift from classroom to remote learning and back again, it is still possible to create routine and consistency by promoting healthy habits, positive behaviors, and mindful ways of learning.
In addition to consistency as a behavioral pattern, environments can also play a role in a person's sense of stability. Visual and physical feedback from environments such as patterns, colors, materials used, and room design can all help us feel stable and secure. Whether learning and working at home or in a classroom, environments that are consciously created according to the needs of growing bodies and minds is imperative to a sense of safety.


Inspire Creativity Be sure to help students engage in creative activities, whether at home or in the classroom. Research shows that creativity can lead to resilience by creating positive emotion, even during times of crisis. This can serve as a form of self-expression and be an emotional outlet for students to process. Avila said that children are resilient and will find ways to engage with their peers and their creative pursuits even in adverse conditions.
According to Merriam-Webster, resilience is defined as "the ability to recover from or adjust easily to misfortune or change." We see that form of healing and resilience when examining the work of Charles Schulz, J.R.R. Tolkien, Maya Angelou, Freddie Mercury, and so many others. These were artists who took their experiences from violence, war, oppression, and global pandemics to create brilliant and inspiring works of art in a variety of forms. Helping kids engage in creativity will help them forge a lifelong path to resilience as a practice.
Environments that Help Students Thrive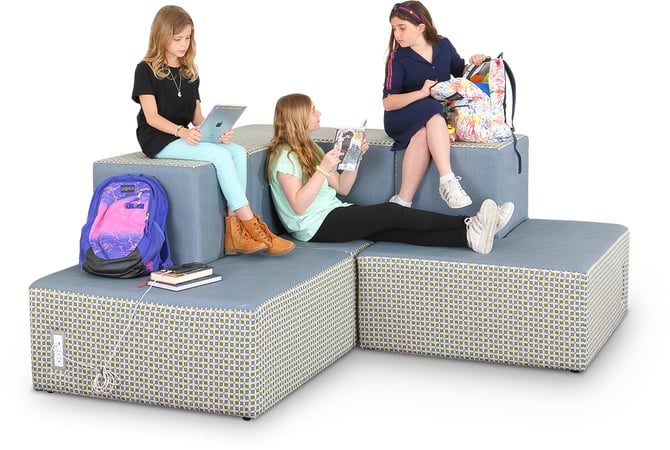 With these tips in mind, we reflect on the importance of creating learning environments that inspire students to be curious, creative, and maintain a sense of security. Vanerum North America's goal is to foster each stage of the developmental journey from adolescence to adulthood. We realize that the key to designing environments that support social-emotional development is integration: integration of technology, integration of furniture, and integration of tools necessary for connection.
As conversations about hybrid learning models and social distancing in classrooms continue to take place across the nation, we recommend furniture that not only facilitates necessary integration, but encourages the dialogue, routine, and creativity that psychology professionals like Adam Avila says are so important for teens' social-emotional development.
Curved and creative pieces like the Orbit Mediaspace Soft Seating, the Cocoon Mediaspace Seating, and the Elevate Steps Soft Seating allow for collaborating, but are spacious enough for social distancing. Add in the Essentials Clear Mobile Divider, and students are more protected while still being able to actively learn together. With tiered seating available, these comfortable couch and table combinations will create that safe sense of a "home away from home", while still producing a mature collegiate-style environment for projects and individual study. These grounding and cozy settings lead to the ideal environment for group-thinks that will allow teenage students to feel connected, creative, and professional.
We're Here to Help…
We know times may seem different right now and that can lead to fear and stress. We want to say once again, that we aim to help. By providing you with up-to-date information on the current crises, by providing some of the fastest lead times in our industry, and by being a trusted name in conscious classroom design for over 35 years, we are here for you and your students today and tomorrow. Contact us for more information on MooreCo Contract services or if you'd like more information on any of our products for back-to-school.
Take a few minutes to learn more about the Thrive Philosophy:
Topics: Collaboration, Active Classroom, Covid-19, Thrive