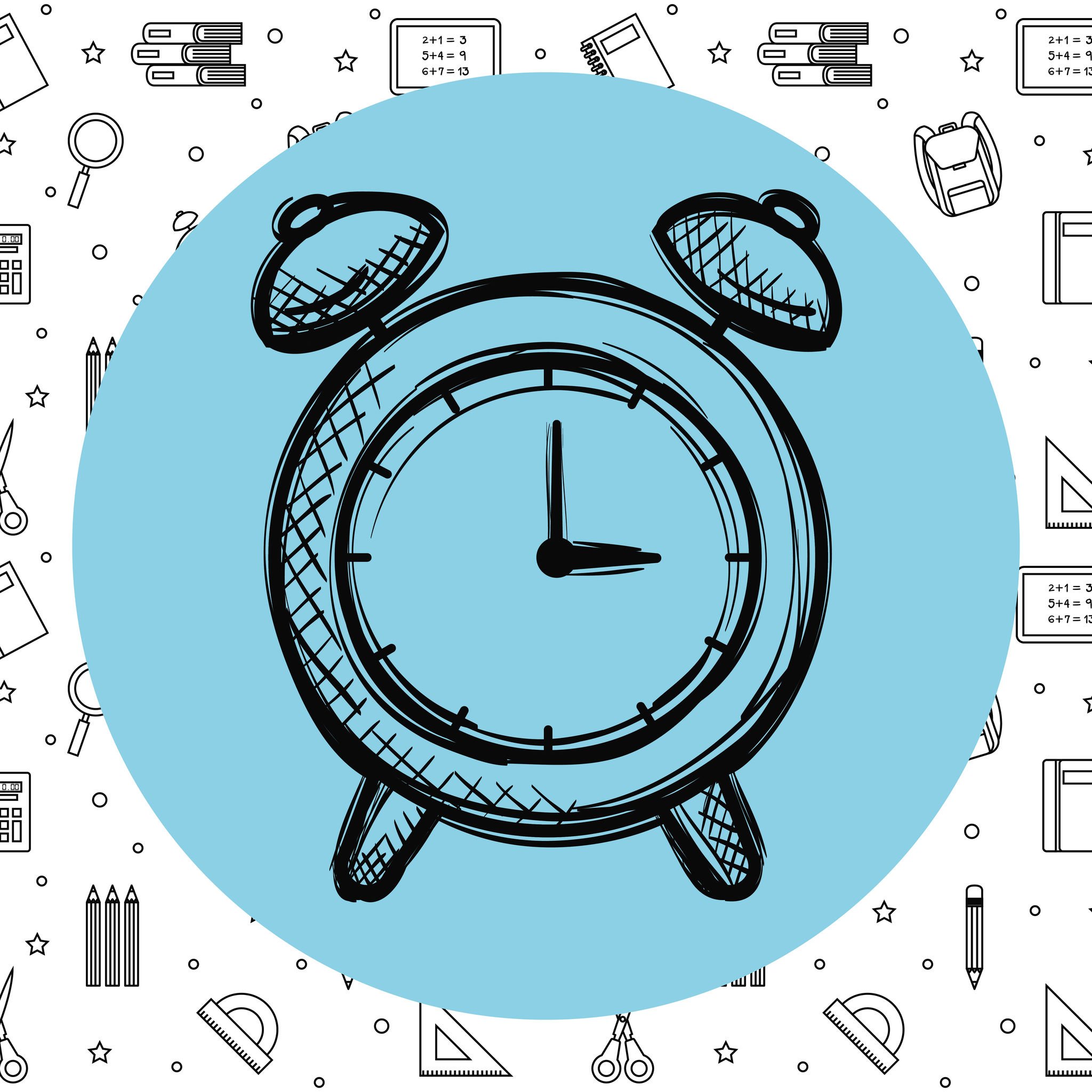 Why You Need Quick Ship Furniture for Back-to-School
No one likes to wait a long time for shipments and deliveries. In this time of new routines and changing schedules, Americans are more in need than ever of high-quality products and speedy service.
As schools make decisions for how to proceed with the upcoming school year, they'll need the reliability of great customer service and quick shipments to outfit learning environments in time for new students.
MooreCo launched our Quick Ship program, complete with full classroom environments to suit your every need. With some of the fastest lead times in our industry, you can rest easy knowing you're getting the best furniture right in time for back-to-school. Here are just a few benefits of quick ship furniture and what you can expect if you order now from MooreCo.
Less Stress
Guaranteed lead times between 2-10 days
Conscious product design for students of all ages
Easier ordering and speedier service
No upcharge for faster shipments
We understand the stress that the Covid crisis has brought to educators and school administrators. Less time to plan for the changes that your school may need to include according to recent CDC guidelines means all hand are on deck. While some in our industry would seek to upcharge for faster ship times, we've made it a priority to guarantee lead times that are shipped to you in a specified time with no added fees.
When you know exactly when your order will be shipped, you'll feel less stress about getting your school ready for fall. We've created a comprehensive list of our most popular pieces for back-to-school with information about when you can expect to receive bulk shipments of the classroom furniture you need. And we're not just talking your typical desks and chairs. We've combined our top-selling items for active learning so you won't have to spend lots of time browsing for what you need.
We're in your corner and want to make it as easy and stress-free as possible to get the products you need to make sure that your school is fully furnished, functional, and safe, so that students can keep learning!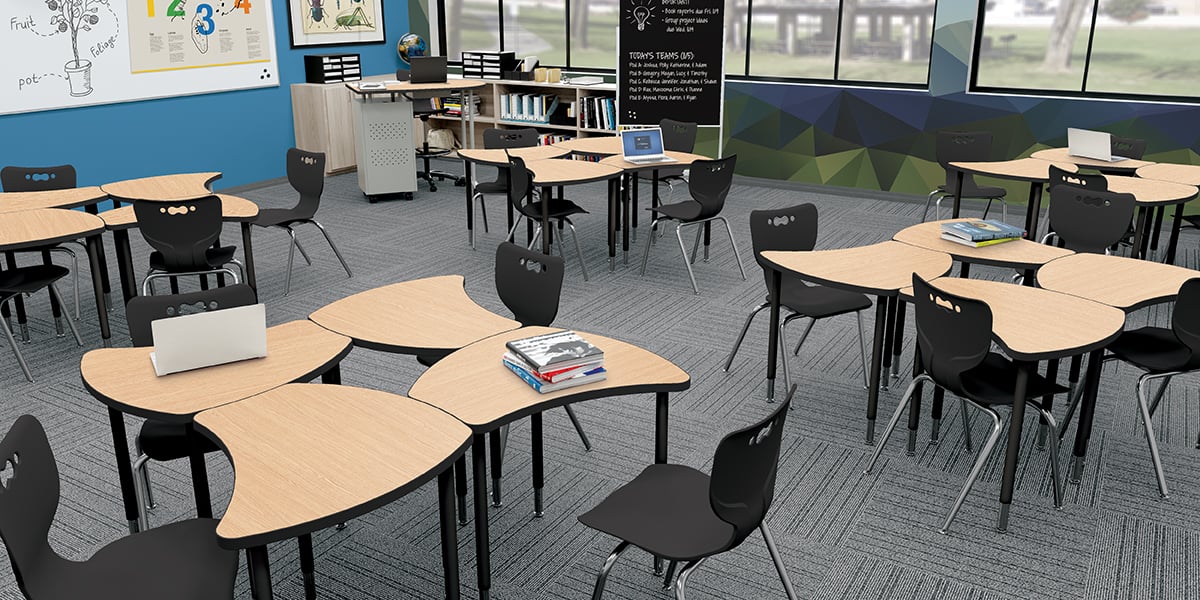 Better Bundles
Products designed for modern environments
Complete Classroom Design in 5 Days with Classroom X
Active Learning Environments that go beyond desks and chairs
Lead times that aren't tied to quantities ordered
Guaranteed discounts on the items you need
When time is of the essence, picking out individual products for your school can be a long and frustrating process. Without professional guidance, it can be difficult to know which items are best for students and their activities. That's why we created Classroom X, which features a variety of hand-picked products to make up the total classroom. Classroom X and our Quick Ship program make it that much easier to order what you need quickly and receive it in a timely manner.

At MooreCo, we place the intellectual and psychological development of children at the forefront of every school item we create. A lot of thought goes into which items will help students learn and grow. That's why offer a variety of choices with our quick ship program that include soft seating, wall-mounted boards, teacher's desks, makerspace tables, storage cabinets and mobile boards.


We offer guaranteed discounts when ordering a fixed lot or pallet quantity . We have done the math to save you the most while getting exactly what you need. Ordering these larger quantities makes packaging costs come down, allowing better pricing on each product without compromising on quality, and we want you to benefit!

Faster Service
Less time spent ordering products
Less time spent waiting on delivery
Superior products in a rushed back-to-school season
Waiting weeks on end to receive furniture for your school can create anxiety, especially now. With many schools closed through the end of the school year, time is limited for ordering and loading in new furniture. That's why MooreCo's Quick Ship service guarantees faster lead times than ever before. With some in our industry, a timeline for shipping could be as much as 26 weeks!
We realize that speed is a priority while preparing for this year's unprecedented fall season, so we've made it so that you can get the best quality in full classroom furniture designed by experts with a fast 2-10 day lead time. What's more is that you can order as many as you want. Unlike our competitors, our lead times aren't tied to quantities ordered, allowing you to get the amount you need while knowing that your order will still ship on time.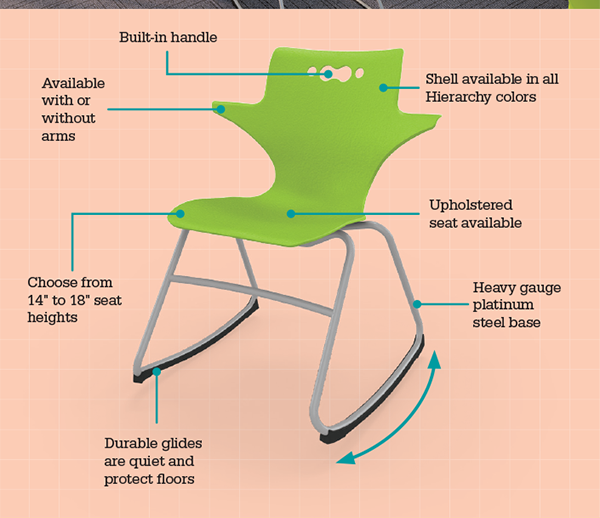 Higher Quality
Full classroom environments
Guaranteed discounts for volume purchases
Modern products with the needs of today's students in mind
Durability, style, and function that lasts for years
Our Quick Ship program includes many of our newest products designed for modern environments. We thought about students of all ages and at every grade level when creating this offering. Our collection includes pieces that incorporate active learning to inspire creativity and focus. Soft-seated dots & activity tables for early learners may be the perfect configuration for your smallest scholars to create social distance in classrooms. Choose from a variety of options when it comes to ergonomic seating options or functional workspace tables, including Hierarchy chairs in a variety of colors and the customizable Shapes Desk .
Our Quick Ship products include contemporary designs and our latest launches. You don't have to settle for products that don't suit your specific needs or generic imitations. Find exactly what you're looking for by browsing our extensive product list for classroom design. You can still expect some of our industry's fastest lead times, without having to sacrifice quality. We stand by the methodical design and construction of all of our products and guarantee that they will last for years to come.
We're Here to Help...
In these uncertain times, knowing what to expect and when you can expect it is a key component to feeling secure. Let us help you worry about one less thing with quick shipping and superior design for your classroom environments. Without the hassle of scrambling to pull together furniture in a rush, you'll be able to focus on what matters and get ready for the challenges of this new school year. Let us know if we can help you and your students get what you need. You've got this!
Topics: Insider, Design, Active Learning, Active Classroom, Covid-19, Back-to-school