The Multi-Use Tools That are Tackling the Covid Crisis
MooreCo is proud to have been a provider of functional, durable, and antimicrobial furniture and office supplies since 1985. The careful craftsmanship of our items has helped to improve the lives of students in schools, employees in major corporations, and patients and healthcare workers in clinical settings.
Now, more than ever, we are aware of the need for our products, as the Covid-19 crisis creates the demand for supplies in hospitals and healthcare facilities that may be soon overwhelmed. In order to do our part, we want our vendors and patrons to be aware of how they can better prepare themselves ahead of the outbreak's peak.
We believe that together, we can ensure the safety of citizens and patients, and secure the efficacy of the efforts in overcoming the Coronavirus. If your headquarters or hospital are in short supply, or if your task force could use a more effective way of communication, we suggest taking a look at our reversible boards, dividers, and Mobile D.O.C Partitions, that are serving as multi-use tools in operations around the world.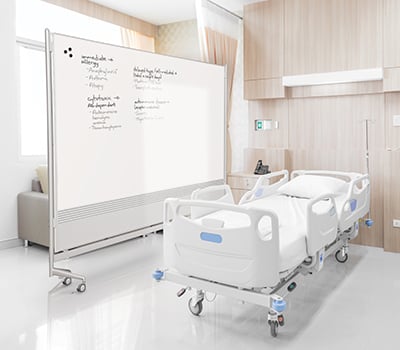 The Benefits of Mobile Partitions and Dividers
Improved Safety
In the coming weeks, keeping hospitals and healthcare facilities open and running will be of the utmost importance as new cases of Covid-19 begin to arise and patients need treatment. To aid in the prevention of a lack of supplies like hospital curtains, we point to our porcelain steel partitions and reversible boards, which can serve as dividers between patients in hallways or other improvised spaces, should the need arise.
The porcelain steel coating of each partition and reversible board is antimicrobial and resists bacteria, limiting the spread of the infection. Keeping surfaces and environments clean is necessary to stop the spread of Covid-19 and the divider's anodized aluminum and steel trim, porcelain steel surface, and aluminum kickplate are non-porous and easy to disinfect. One simple wipe of a hospital-grade cleaning agent will purify the shield, without tarnishing its quality.
Clearer Communication
Global crisis strategist Davia Tamin lists clear communication and being a trusted source of information to be two of the eight best practices for leadership in a pandemic. Our dividers are considered multi-use because they are also tactical whiteboards used to communicate in classrooms, boardrooms, and healthcare facilities.
As the pace of the crisis ramps up, it will be important to maintain a way to communicate quickly and effectively to update fellow healthcare or government workers. Our Platinum Mobile Reversible Board's smooth surface is easy to write on and wipes off clean with one simple swipe, which is ideal in a moment where rapidly changing circumstances determine a new course of action.
Personal Privacy
In the event that healthcare facilities run out of isolated rooms for patients, a personal partition can help to create a sense of privacy for each patient, inspiring a feeling of safety and helping patients stay calm. Our mobile double-sided dividers and room partitions are mounted on a wheelbase, making them easy to move from room to room or floor to floor, depending on where they are needed. Having tools of communication like this helps healthcare workers to more easily communicate when there is a high influx of patients. That's why they are already being utilized in a COVID-19 treatment facility in Delaware County, Pennsylvania.
Our Trek Mobile Room Divider can turn any space into a multifunctional environment, making it ideal for use in multi-patient hospital rooms, emergency centers, lobbies and waiting rooms, and anywhere temporary isolation shields are needed.
Better Space
Research shows that patients feel more at ease in clinical settings that are spacious and open. Patient anxiety may change depending on the arrangement of the room, textures on furniture and wall features, and the perception of space and accessibility. As hospital rooms begin to fill up, it may seem that space is becoming limited, causing an increase in tension for healthcare workers and patients alike.
Dividers allow for personal spaces and portable rooms for each person in need of treatment. They are available in three sizes for use in any room or open space, and easy to configure with minimal gapping. The large, clean, white surface will add a notion of openness, while providing protection from the spread of germs to other patients.
We're Here to Help...
For these reasons and more, consider our reversible boards, dividers, and partitions for your healthcare establishment or situation room. They are clean, durable, mobile, and will serve as a reliable addition to much-needed supplies as we fight this Covid crisis head on.
If you have any questions about whether partitions may be right for your company, do not hesitate to contact us so that we may help you find what you need to be fully prepared for the coming months.
We want to take the time to appreciate all healthcare workers, government workers, and first responders, who are in need of our support and deserving of our highest admiration and respect. Thank you.
Topics: Healthcare