What is CTE?
Career and Technical Education (CTE) is a specialized form of education that provides students with the knowledge and skills they need to pursue a career. CTE programs are offered at the high school, college, and adult levels and focus on specific career paths, such as business and finance, healthcare, engineering, manufacturing, information technology, hospitality and tourism, and many more. They are designed to prepare students for the workforce and provide them with the skills and knowledge necessary to succeed in their chosen career.
Some students cannot afford to or are otherwise unable to attend college after high school. CTE classrooms should be fully equipped to provide instruction and experiential learning, so students can take what they learned into the workforce and begin a career without necessarily pursuing higher education. MooreCo can expertly design CTE environments with our line of Compass Makerspace products, crafted to create space, movement, ample storage, and adaptability.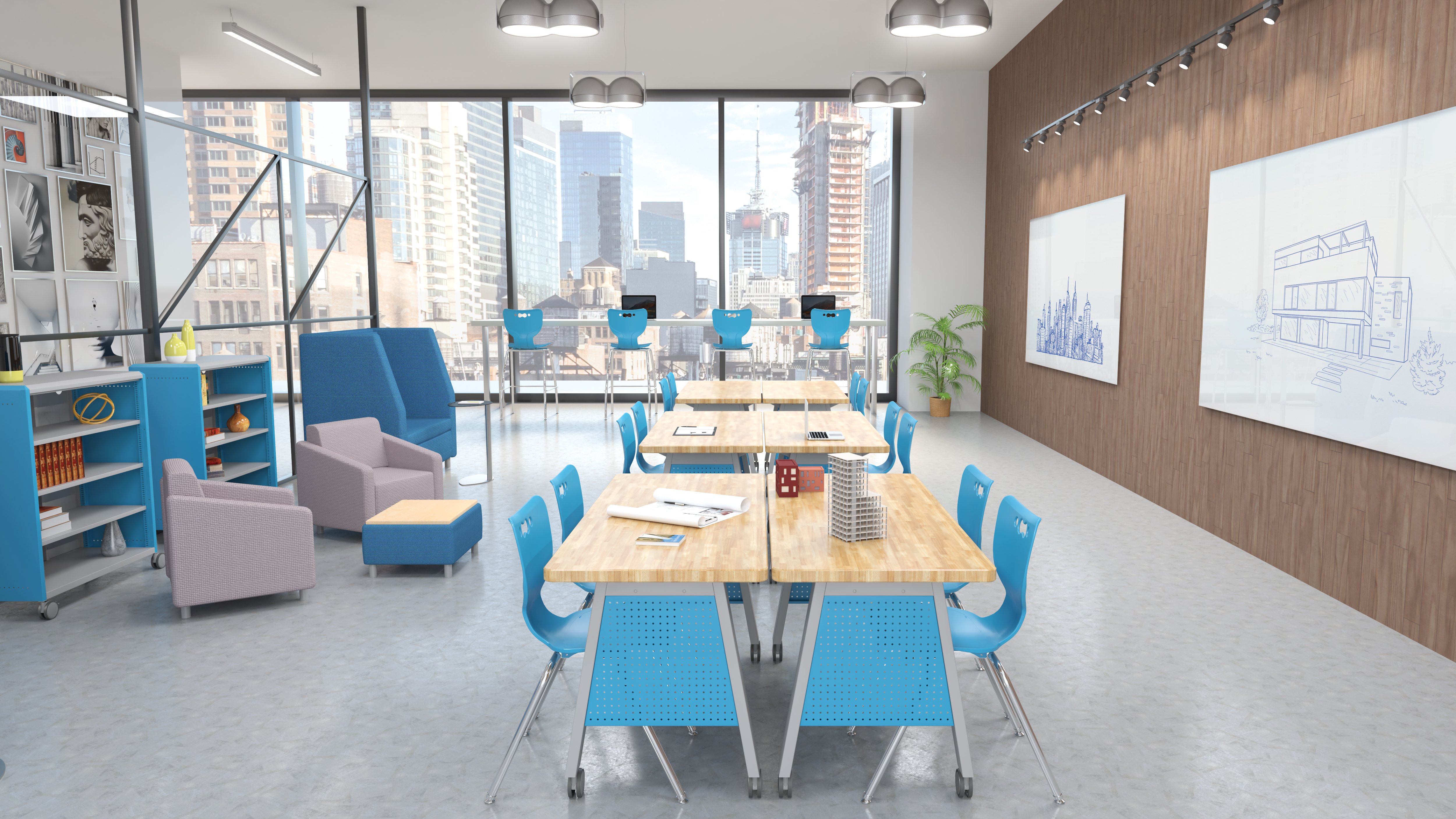 What Do CTE Classrooms Need?
The first step in building a successful CTE program is to assess the needs of the students. A solid CTE program should be tailored to the students so that it meets their individual needs, challenges and inspires, and equips them to enter the workforce with the required skillset for their chosen field. CTE programs are designed to provide relative training and resources to help students who do not plan on attending higher education transition into and thrive in their career.
Furniture for CTE classrooms should include comfortable and ergonomic chairs, desks, and lab tables. Chairs like the Hierarchy 5-Star should be adjustable so that students can be comfortable while working, and desks should be large enough to accommodate books, laptops, and other materials. Compass Makerspace Butcher Block Tables are ideal in this environment, offering a sturdy surface for any activity and able to seat multiple users for collaborative meetings and projects.
Lab tables should be sturdy and safe and should be able to support the weight of equipment and materials. Storage solutions such as Compass Cabinets and shelves should be implemented to organize materials and tools. White boards, projectors, and other technology should also be available for presentations and demonstrations. All furniture needs to be adaptable and rearrangeable in a way that allows for students to easily move around the classroom and engage in activities.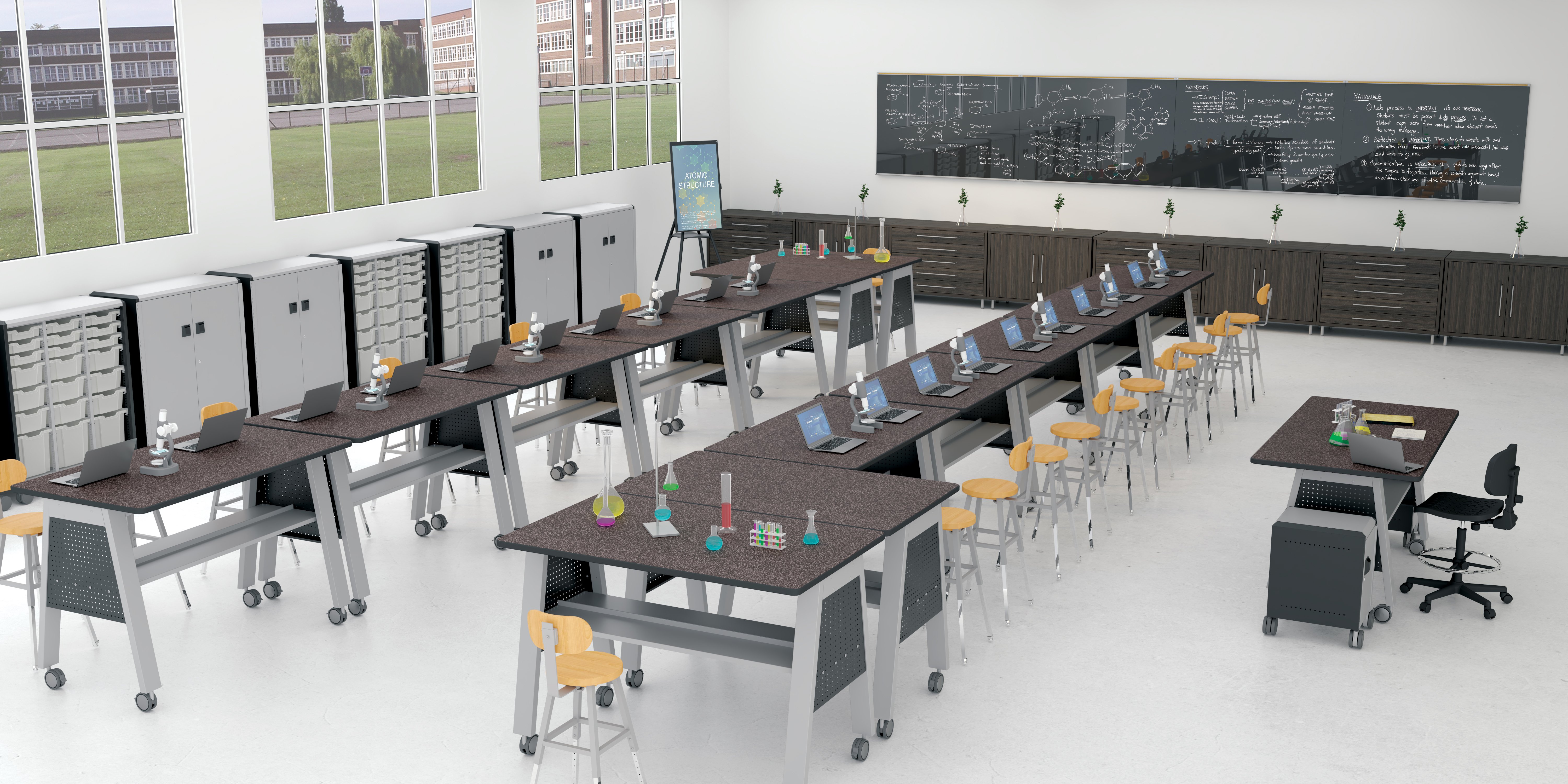 What Do CTE Classrooms Accomplish?
CTE classrooms provide students with the opportunity to develop practical skills for the workforce. These classrooms offer an array of courses that teach students the skills necessary to excel in a specific job field. CTE classrooms offer students the opportunity to gain hands-on experience with the equipment and technologies they will be using in the workplace. Students are able to apply what they learned in the classroom to real-world situations and gain the confidence needed to succeed. The Compass Mobile Teacher Workstation can be used as the flagship of the classroom, provided to each student to facilitate real-life workplace experience, or designated to the instructor to keep all necessary materials close at hand.
Students are offered the opportunity to develop important soft skills in CTE spaces, increasing their empathy and connection with their peers. Through projects and team-building activities, students learn communication, problem-solving, and critical thinking skills, as well as how to effectively collaborate and work with others. CTE classrooms help equip students with the skills needed to enter the workforce and excel in their chosen career field. By providing students with practical experience, knowledge, and soft skills, CTE classrooms give students a solid foundation for success in their future career.
Want to learn how to design CTE classrooms with other MooreCo products? Learn how to create CTE environments with Akt furniture!
Topics: Compass, Higher Education, CTE, Experiential Learning