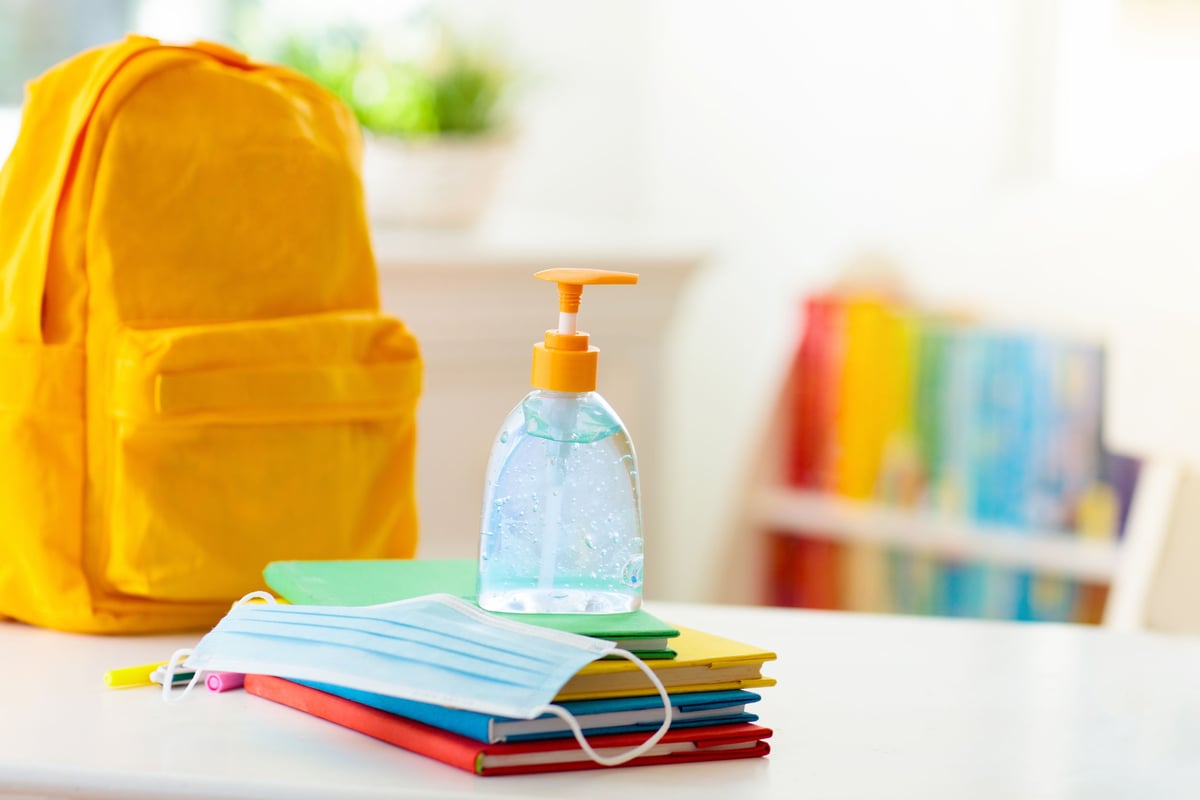 The Six C's for a Safe Back-to-School Season
On Tuesday, June 23rd, MooreCo held its first webinar on the design challenges of safely reopening schools during a global pandemic. With several states' cases of COVID-19 continuing an upward climb, it becomes more apparent than ever that schools will need to make adjustments to their existing routines and environments according to CDC guidelines in order to keep students and faculty safe from the spread of COVID-19. In this blog post, we'll break down the top takeaways from our open discussion with experts on classroom design and COVID-19.
How Designers, Architects, and Superintendents Can Lead the Way to Safe School Reopening
There are only a few weeks before schools are set to open their doors nationally, with many not having a solid plan as to how to do so in these unprecedented times. This has led to an all-hands-on-deck situation for professionals from a variety of industries such as architecture, design, healthcare, and education. Cross-collaboration seems to be the only path forward to presenting solutions for how to safely reopen schools according to CDC guidelines in time for fall. Knowing this, we assembled a team of experts to share their findings with us for an informal chat. Our panel included perspectives from innovators from around the country who could shed some light on what may happen in fall. They were:
Sylvia Kowalk: Principal Director of Interior Design Legat Architects
Dr. Tom Leonard : Superintendent Eanes ISD – Austin TX
Steve Hulsey, AIA: President, Executive Managing Principal Education Sector Leader at Corgan Group
Dr. Lindsey Leininger, PHD: Public Health Researcher and Professor at Dartmouth
Robin Randall: Principal | Director of PreK–12 Education, Legat Architects
Greg Moore: CEO MooreCo Inc & Family of brands
Here are The Six C's of a Safe Back-to-School Season
Community
Dr. Leininger is a health services researcher and the founder of a COVID science communication group called "Dear Pandemic". She said that she thinks of three principle "C"'s when tackling the dilemma of opening schools in a pre-vaccine "new normal". The first, she says, is community context. This means that the amount of vigilance required to combat the spread of COVID-19 depends heavily on how many cases are in a particular community.
In several states, including Texas, cases are quickly on the rise. These hot spots will need to take greater precautions while considering reopening schools than other states who have successfully lowered the amount of positive cases. This may mean considering new models for learning such as online or remote options. Many districts are piecing together the logistics of these plans as we speak.

Control
Infection control is the second "C", according to Dr. Leininger's list or priorities. This includes measures such as wearing masks, frequent handwashing, social distancing, and contact tracing. Dr. Tom Leonard says that as a district superintendent, the importance for infection control can't be understated. Aggressive preventative measures will be needed to protect faculty and staff at schools and also to prevent the shutdown of classes in fall.
He added that masks should be worn to help prevent the spread of COVID in schools. Over 172 worldwide studies have concluded definitively that wearing a mask can drastically reduce the chances of passing on or catching COVID-19. Unless there is a medical or physical reason a person can't wear a face covering, they are recommended by medical experts for everyone over the age of two to effectively prevent the spread of COVID-19.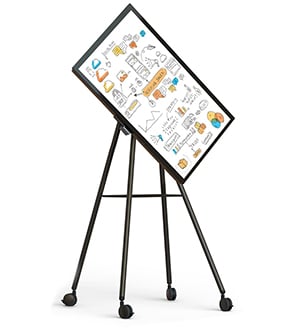 Communication
Dr. Leininger and other panelists agreed that communication is vital to conquering this global pandemic. This means accurate and up-to-date information is the best way to stay aware and that communities will need to stay in contact with each other to determine the best course of action. Teachers, parents, superintendents, medical professionals, designers, manufacturers, and elected officials will need to have ongoing dialogue about how to create and access solutions to a safe reopening of schools that includes measures to keep everyone safe and to reduce the spread of COVID-19.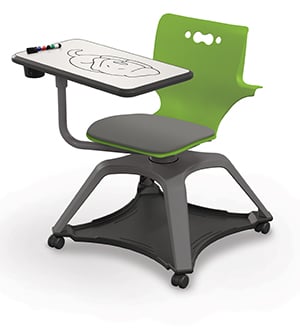 Collaboration
Robin Randall is the director for k-12 education at Legat Architects. She points out that collaboration is essential for children's social-emotional development. But because close-contact group learning activities may be on pause for the moment, she points to other ways to let students engage.
For example, outdoor play and learning spaces allow kids to play safely at a distance in the warm weather. This is one example of children leading the way and discovering how they learn best. It may be the best thing to come out of this stressful time, as we allow a new way of learning to emerge that suits students and parents.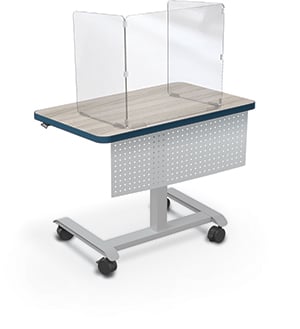 Cohorts
We first spotted Steve Hulsey in a segment on WFAA about hybrid classrooms as a solution to reopening schools during COVID outbreaks. As an architect and leader of the education sector at Corgan , we knew he'd be able to inform us about how blended models for classrooms may not only be possible, but a major component to keeping schools open and slowing the spread of the virus. Steve said that the cohort model is considered a "best practices" model by his firm.
He says that keeping a group together all day with one principle educator can create a safer environment of any size. We wrote in greater detail about how to effectively enable learning in cohorts with hybrid classrooms. With a few simple tools such as a web cam, smart board, and internet access, students can have the world come to them while they remain within their cohorts. This will reduce the chances that the virus can spread widely throughout a school and cause it to close.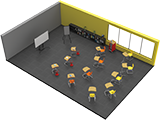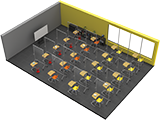 Connection
Sylvia Kowalk is the Principal Director of Interior Design Legat Architects. She said that when designing educational spaces in this time of uncertainty, connection is necessary for productivity and mental health. She points to the "Cheers" theme song and says that although new models for learning may seem unfamiliar, that what we all want is to be where "everybody knows our name".
She says that furniture is very important for providing a space that feels comfortable, like a home away from home. And that if students are going to be in secure "bubbles" all day, they will need comfortable furniture that lets them easily move, play, and feel connected, even if they're more stationary than usual.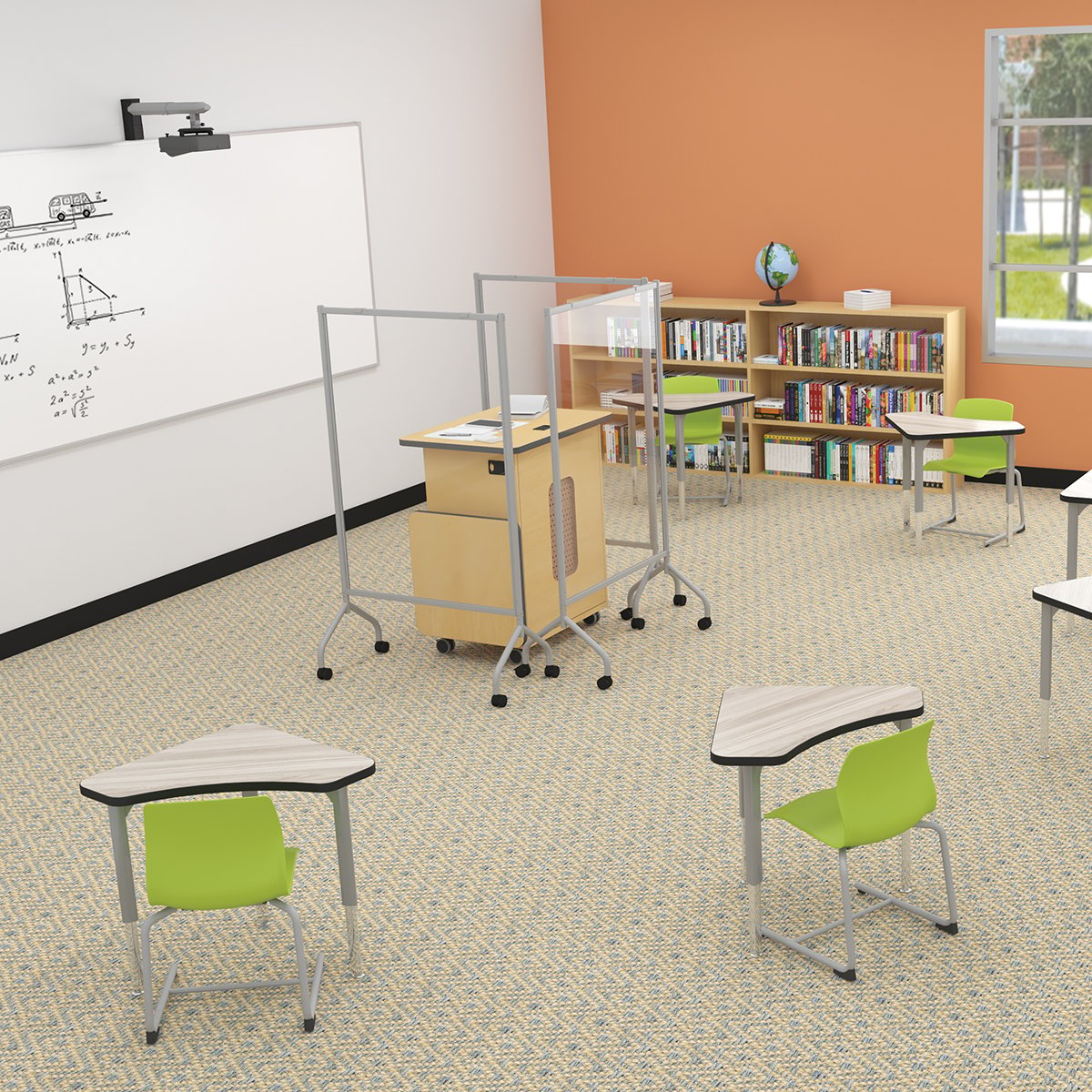 Innovating the Future of Tomorrow's Classroom Design
At our webinar, our CEO Greg Moore discussed what MooreCo is doing to actively be a part of the solution to safely reopening schools. This includes some of the fastest lead times in our industry and quick ship furniture for back-to-school preparation. MooreCo's family of brands includes some of the most intelligently designed classroom furniture through Vanerum North America and Essentials by MooreCo, contract services to help get schools ready quickly, and integrative technology that can turn any classroom into a hybrid learning environment with i3-Technologies.
Lightweight, easily cleanable furniture like our Enroll Tablet Chairs or Hierarchy Creator Tables can easily transform a traditional classroom into a blended model classroom when seating spaces are socially distanced six feet apart. Clear desk protectors like our Trifold Acrylic Desktop Screen can be used to separate students in a more crowded room, reducing the chances of the virus being easily spread. Students can learn from home or in the classroom while specialty teachers videoconference from other rooms via the i3Sixty, allowing cohorts to stay safely contained while indoors and reducing the chances of spreading the virus. These are just a few products we offer that suit the needs of the proposed models for safe classrooms as schools open again. Be sure to browse our quick ship brochure if you're looking for a more complete list of bulk products with faster lead times.
We're Here to Help…
Don't hesitate to let us know how we can help get your school ready in these turbulent times. We are following the trajectory of COVID-19 as it continues to spike in certain areas of our nation, and we continue to be on the leading-edge of classroom solutions to keep students safe. No matter whether your school is going to be all in-person, a blended model, or 100% remote, we have the products you'll need to get ready in a hurry. Call us with any questions. We are here to help.
Topics: Insider, Design, Human Development, Technology, Covid-19, Back-to-school