Cost-Effective Blended Model Classrooms
As the weeks begin to countdown to school's proposed start date throughout the country, many districts are still working out firm plans to safely reopen in time for fall. COVID-19 shut down schools at the end of the spring term, leading many American students to have to learn online with little success. Now the American Association of Pediatrics and other health organizations are recommending that schools open in fall with students able to participate in person, citing that doing so would be optimal for student's mental and emotional well-being.
But how can schools go about opening safely with CDC recommendations in mind? We've featured a series of blog posts and a webinar on how to outfit your school according to guidelines in time for fall. Our last post featured information on in-person cohort models. In this blog post, we'll talk about the benefits of a hybrid classrooms and how to create a blended model on a budget.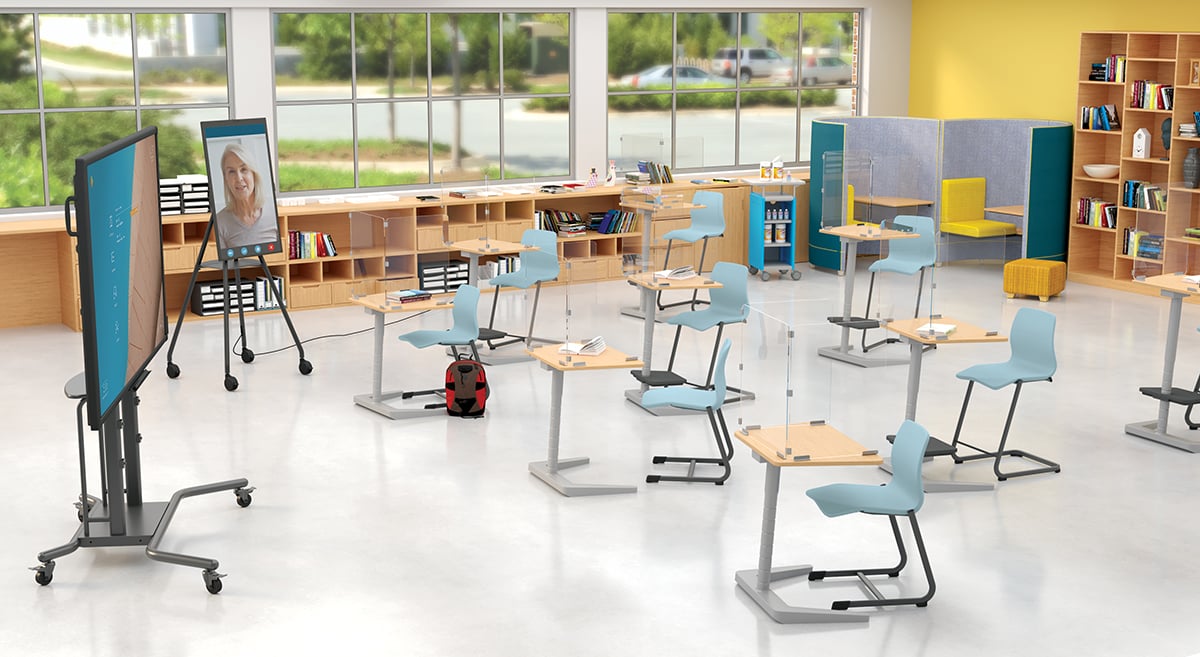 What is a Hybrid Classroom?
It's actually very simple. The "hybrid" or "blended" classroom combines live classroom teaching with distance learning. In a hybrid classroom some students are physically present in the classroom while the others are following the lesson from home. The combination of remote teaching software such as the i3LEARNHUB, an interactive display smart board like the i3SIXTY, and a simple webcam can turn any classroom into a hybrid classroom.
What does a hybrid classroom look like?
The actual classroom setup depends on the number of students in class. CDC guidelines recommend for students to be seated six feet apart which will reduce classroom size considerably. For all students to follow the lesson at the same time, this may mean moving some students to another classroom or to an improvised classroom space.
Three basic things will be needed to keep all students connected to the same lesson:
Remote-learning software: Our preferred pick is i3LEARNHUB which combines the lesson creating tools of PowerPoint, the integrated video-conferencing capabilities of Zoom, and is compatible with Google Classrooms.
Interactive Displays like the i3SIXTY interactive whiteboard allows teachers to digitally take notes on the whiteboard app and be able to share the notes at the end of the session.
Webcam: it is important for both, the students to be able to see the teacher's face and for the teacher to see the kids to establish a personal connection and to notice nonverbal cues.
Hybrid-Friendly Furniture
Setting up your hybrid classroom with lightweight, mobile, and easy-to-disinfect furniture will create an environment that limits the spread of the virus and keeps students comfortable and engaged while in the classroom. Many of our products fit this description for adequate storage of cleaning supplies and PPE, while allowing teachers and students to safely distance.
The Sync Tech Cart


Mobile and multi-functional, the Sync Tech Cart is a technology cart with numerous storage cubbies and a flip-up shelf, perfect for instructors who prefer to move about the classroom and create social distance. It features a pull-out keyboard tray, fixed shelves, 9″ locking personal drawer, lockable back door with perforated steel for ventilation, tabletop grommet and a 24″ laminate flip-up shelf. Integrated locking casters encourage movement around the classroom and lock in place when a stationary position is desired.

Enroll Tablet Chair FT Seed
This tablet chair features a dual right- or left-handed writing tablet chair and 360º rotation, Seed Enroll makes collaborative room configuration more accessible. Its tablet surface is available with a porcelain steel whiteboard finish, designed to provide space for doodling, jotting down notes and ideas, and brainstorming. Porcelain is easy to clean, accepts magnets, and comes with a lifetime guarantee. The base becomes a storage compartment for books or backpacks. This piece includes a convenient cup holder and wide tablet for students' all day comfort.

Trifold Acrylic Desktop Screen
Keep your students and faculty safer and more protected from the spread of germs with a Trifold Acrylic Desktop Screen. The handy all-in-one form factor requires no installation, and fits on virtually any desk or tabletop to provide clear division and protection, while still allowing visibility and social interaction. Acrylic panels adjust for open angles, and fold flat for storage. Panels are joined with acrylic hinges for an easy to clean and disinfect screen. To clean, simply lift the screen out of the brackets, clean, and place the divider right back where it came from. In 2020, no classroom will be complete without these types of protective screens for students and teachers, especially where classroom distancing measures are difficult to provide.

Budget and Time Considerations for Outfitting Schools for COVID-19
At MooreCo, we've anticipated the needs of schools throughout the country who are beginning to run short on time and may in some cases not have optimal funding for outfitting schools. We are leaders in our industry for high-quality and affordable school products and have made our products even more accessible in the last few months to meet the needs of our customers with our Quick Ship program.
Guaranteed Discounts We offer guaranteed discounts when ordering a fixed lot or pallet quantity. We have done the math to save you the most while getting exactly what you need. Ordering these larger quantities makes packaging costs come down, allowing better pricing on each product without compromising on quality, and we want you to benefit.
Get What You Need Quick Ship products include contemporary designs and our latest launches. You don't have to settle for products that don't suit your specific needs or generic imitations. Find exactly what you're looking for by browsing our extensive product list for classroom design. You can still expect some of our industry's fastest lead times, without having to sacrifice quality. We stand by the methodical design and construction of all our products and guarantee that they will last for years to come.
Faster Lead Times with No Added Charge We realize that speed is a priority while preparing for this year's unprecedented fall season, so we've made it so that you can get the best quality in full classroom furniture designed by experts with a fast 2-10 day lead time. What's more is that you can order as many as you want. Unlike our competitors, our lead times aren't tied to quantities ordered, allowing you to get the amount you need while knowing that your order will still ship on time.
We're Here to Help…
Whether your school is going 100% in-person, a blended model, or completely remote, we have what you need to continue learning and growing throughout the upcoming school year. We have continually stayed aware of new information regarding schools and COVID-19 and we are with you in the journey of finding safe solutions for your teachers and students. Call us if you have any questions about price, function, or our Quick Ship program. We are ready to help you get ready for opening your school doors.
Topics: Technology, Covid-19, Back-to-school